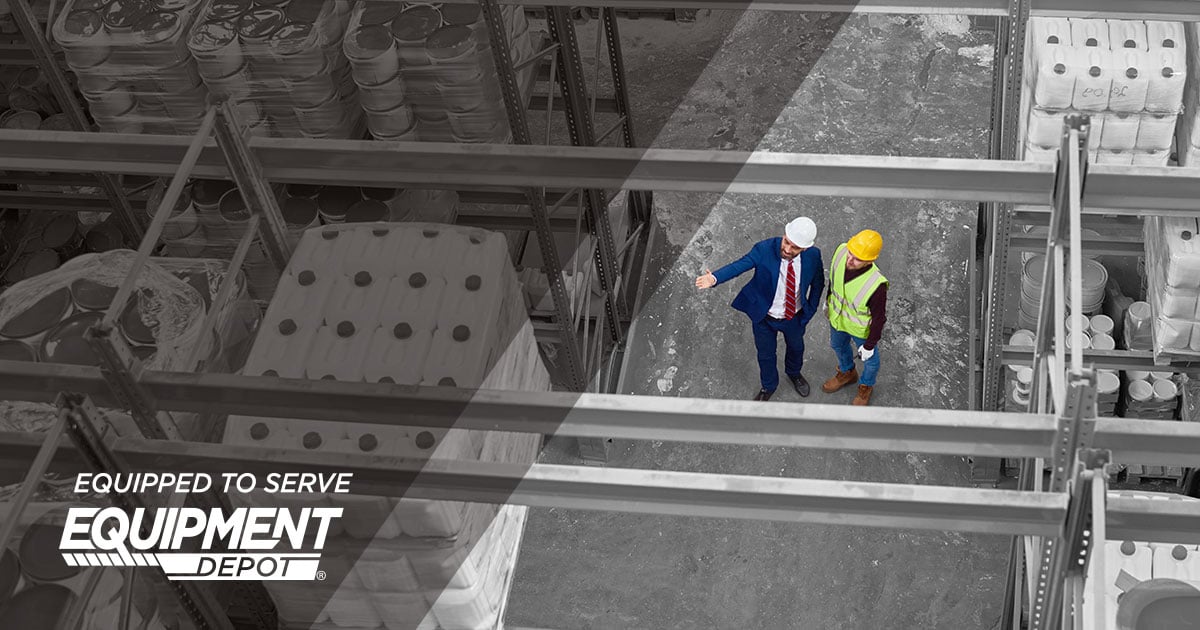 An optimized warehouse is an efficient warehouse: one which maximizes the value and utility of every resource it uses and every process it undertakes. Warehouse optimization requires effort and investments to identify and implement the most efficient mix of people, systems and equipment. It is also critical to establish the right processes, so you can take full advantage of your most finite resource — time.
Like so many initiatives, the adage "if it was easy, everyone would do it" applies to warehouse management as well. Once you resolve to optimize your warehouse as much as possible, it's important to address key challenges that will arise.
Below, we will provide the knowledge to understand what those common challenges are, as well as the tools to overcome them.
Challenge No. 1 — Inaccurate inventory process: With manual processes in place, companies often do not have full visibility into their inventory numbers.

Solution — Warehouse automation software and equipment: Making the investment in warehouse automation will yield major benefits to your inventory accuracy, with residual effects such as better order timing, fewer fulfillment errors, more efficient use of inventory space, and faster inventory administrative processes. With more transparent and accurate inventory processes, you reduce the time spent on inventory management and get more value out of your inventory storage space.
Challenge No. 2 — Inventory location difficulties: When pickers must manually locate inventory, they cannot work as efficiently, resulting in slower loading and shipping rates.

Solution — Automated picking systems: Automated picking systems take the guesswork and manual processes out of picking. Essentially, they do all of the thinking for you and your workers. Partial automation can ensure that your workers always know exactly where to go to pick the next item. Fully automated picking uses robotic equipment to locate and pick every piece — yielding the greatest speed and accuracy benefits. This method reduces the time spent picking items, as well as extra time spent on repicks.

Challenge No. 3 — Inefficient space utilization: If storage systems and warehouse racking are not optimized, more space is required to house inventory and allow room for workers and equipment inside the warehouse. As operations grow, it may not be feasible to invest the time and money in moving, yet more space is needed regardless.

Solution — Optimize racking and automated systems and maximize the use of existing space: One of the biggest inventory concerns is space — it is always at a premium when it comes to inventory, and it is often used inefficiently. Fully automated picking systems, like the ones described above, offer much more efficient space utilization because machines are able to access higher and tighter spaces than humans can — even with the assistance of equipment like scissor lifts. An automated picking system can expand the amount of usable space within your inventory facility by allowing you to access more vertical space inside the warehouse. By shrinking the footprint and using more vertical space, you will be able to "grow" the facility without going anywhere.
Challenge No. 4 — Redundant processes: Multiple touches and repeated processes hurt your bottom line through inefficiency.

Solution — Use warehouse solutions experts to advise on processes: Many warehouse processes are universal, and yet must be applied in a specific manner to be effective. While there is no shortage of best practice advice, those methods must be applied in the unique way that makes the most sense for your particular operation. Strict adherence to an "out of the box" best practice can create major inefficiencies and unnecessary steps in processes. Working with warehouse solutions experts can be one of the fastest and easiest ways to eliminate these inefficiencies and improve your overall operations with a process that is tailored, top to bottom, to you.
Challenge No. 5 — Inefficient picking paths: It is difficult to identify the fastest route through a warehouse for complex picking requirements.

Solution — Warehouse and picking automation: With partial automation, not only will workers know exactly where to go to pick the next piece, but they can be confident that the system is sending them on the fastest and most efficient route possible. Eliminating the need to cover the same ground multiple times means that picking processes are occurring in the minimum time that should be required.
Optimizing your warehouse will take time, effort and dedication. By being aware of — and addressing — these common challenges, you are well on your way to greater efficiency through optimization.
To learn more about optimizing your warehouse visit our site or call us for a free site evaluation at 888.EQDEPOT.