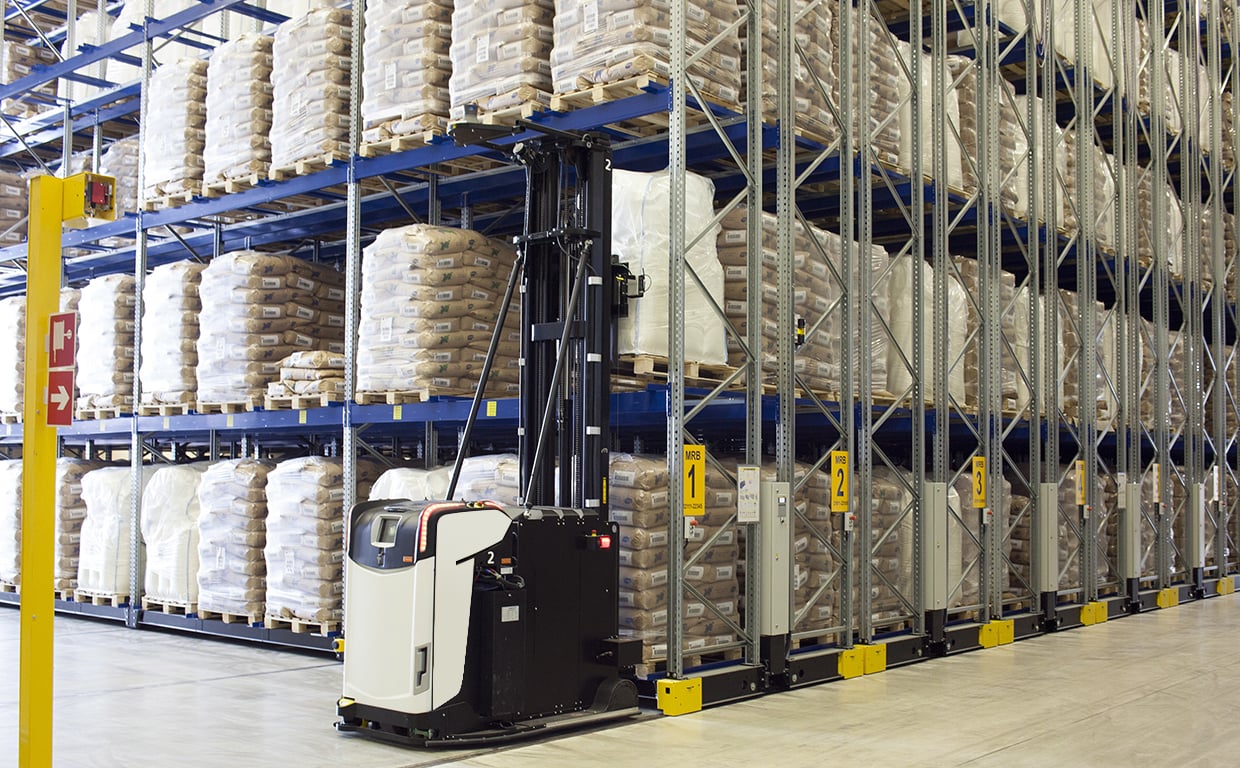 When it comes to food warehousing and distribution, time is always of the essence. Today's consumers expect a wide variety of fresh food options available at a moment's notice. That's why the benefits of automation are so important.
When you can save time in the warehousing and distribution process, you can also enjoy greater uniformity, improved sanitation and more efficiency. Find out the key ways you can leverage automation in your food storage & distribution business to save money and improve profits.
How Does the Food and Beverage Industry Use Automation?
Robotics and automation have a long history in the food industry. For decades, companies have been using technology to streamline operations, maintain quality control and ensure worker safety. While these areas are important in all industries, they're especially important in food distribution, where margins are slim and customers demand consistency.
Modern automation can also make processes more transparent and trackable. When you can pinpoint different areas of your automated tasks to troubleshoot, you can solve problems as they arise and improve the efficiency of your entire process.
What Are the Benefits of Food and Beverage Automation?.
Automation in the food and beverage industry helps ensure that your products are safe, consistent and available. This is essential in the evolving market where customer demands can be seasonal and dependent on a greater variety of product options. Automation will better handle ever-expanding SKUs if you're constantly adding new products to your inventory.
Ultimately, the main benefit of automation in the food industry is an increase in profits. Once your automation is in place, you'll enjoy faster, more efficient handling from storage through packaging and shipping. Consistent quality in your products, thanks to automation, will increase customer satisfaction and sales. Whether you purchase a pair of warehouse automated guided vehicles (AGVs) to store and retrieve materials or a conveyor system to transport packages for shipping, you are likely to see the results in a more robust bottom line.
Keep in mind that automated guided vehicles eliminate unnecessary human contact with your products. According to the Centers for Disease Control, 31 primary pathogens cause more than 37 million illnesses in the U.S. annually. The majority of these are viruses, which depend upon touchpoints to spread and thrive. By automating repetitive tasks in your food and beverage business, you can minimize virus transmission while freeing up employees to take on more motivating roles in your facility.
What Are Benefits of Automation in the Food Industry?
Ramps up production speed

Minimizes human errors

Reduces ongoing production and labor costs

Takes over repetitive tasks

Increases consistency
What Are Possible Disadvantages of Automation in the Food Industry?
Repeats the same mistake over and over if improperly programmed

May be expensive to purchase and set up

May outpace human production workers who take part in processing
What Are the Categories of Automation in Distribution?
By automating the distribution process, you can ensure efficient product transport for storage and picking. Automation will also maintain an accurate count of stock levels. Automated guided vehicles, such as those designed and manufactured by Rocla and Jungheinrich, are designed to simplify storage, picking, and inventory management. Advanced features such as Wi-Fi control and rotating laser sensors enable these AGVs to perform several distribution tasks with precision.
Storage
To save space and enable easy access of product pallets, many food distributors use mobile racking systems in their warehouses. An AGV can work day and night to accurately transport pallets from conveyors to mobile rack storage. Without automation, each pallet must be moved manually by a driver operating a forklift. This can be time-consuming and open the storage process up to human error. AGVs get their navigation instructions via Wi-Fi and can safely work unattended alongside people on the warehouse floor. You can even program AGVs to automatically roll onto floor-mounted charging stations when they're low on power.
Order Picking
When production goods are properly stored through automation, the picking process becomes easier. AGVs can also handle picking and transferring food and beverage orders from storage to the shipping area. With a warehouse management system in place to control pallet locations, an AGV can receive and follow exact order picking instructions. This means the correct quantities of goods will be in the correct spot on time. Automation is especially helpful for high transport volumes or when warehouse space is tight. Operating by laser sensors, AGVs can maneuver accurately and detect obstacles, eliminating damage caused by mistakes from manually operated forklifts.
Inventory Management
AGVs are designed to work hand-in-hand with inventory management systems. With automation, food and beverage distribution centers can always keep an accurate count on the flow of goods and stock levels. If you need an AGV to identify the goods it's transporting, onboard scanners can read barcodes and translate SKUs.
Loading for Delivery
AGVs or other automated loading dock equipment ensure accurate distribution for delivery to each of your customers. Your logistics software enables real-time order tracking and delivery information.
What Are the Objectives of Automation in Distribution Centers?
The primary objectives of automating many distribution tasks are efficiency, accuracy and safety. With greater efficiency, you can stay on top of the supply chain and handle sudden peaks in business to satisfy demand. Improved accuracy means faster transport and fulfillment, which is especially important for perishable foods. By ensuring safety, you can be sure that no unsanitary or unhealthy product ever reaches a customer. Meeting the demands of your consumers quickly and completely builds trust and strong business relationships.
Need More Information?
Ready to learn more about how automation can benefit your business? Our EQSOLUTIONS™ team will help you find the right automation equipment for all your food warehousing and distribution needs. For more information about automating your warehouse, talk to one of our expert automation consultants today at 888.EQDEPOT.