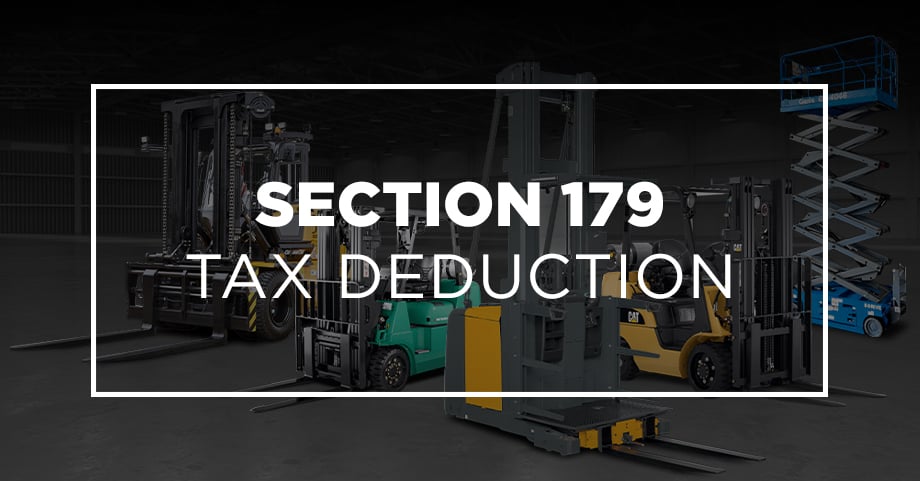 As we approach the end of 2023, businesses continue to look for ways to reduce operational expenses while investing in areas that support their growing business needs. Many companies experiencing greater customer demand need additional equipment to process more orders through their warehouses, distribution centers, or other facilities. Section 179 of the US Tax Code enables businesses to save money by allowing companies to deduct the entire purchase price of qualifying new and used equipment from their taxable profits.
What is Section 179?
The Section 179 tax benefit was created to boost the economy by helping small to medium businesses save money on qualifying equipment purchases - in the year the expense is incurred. Prior to Section 179, companies could only write off the value of the equipment's depreciation each year. So, if a business purchased $100,000 in equipment that was depreciable over five years, companies could only deduct $20,000 each of the five years. Now, with Section 179, businesses can deduct the full cost of the equipment in year one! For 2023, companies can deduct up to $1.16 million in qualifying purchases, with a maximum spend of $2.89 million. The Section 179 tax incentive applies to both new and used equipment that is purchased or leased and put into service by December 31, 2023.
Tax Savings Example:
Cost of Equipment

$100,000

Assuming a Tax Bracket of

21%

Section 179 Deduction

$100,000

Tax Savings on Purchase

$21,000

Lowered Cost of Equipment (after tax savings)

$79,000

That's $21,000 added back to the bottom line!
How You Can Take Advantage of Section 179
Identify Equipment and Property that Qualifies
The following IRS requirements must be met for businesses and equipment purchases to be eligible for the Section 179 tax deduction:
Businesses must buy, finance, or lease qualifying equipment between January 1, 2023 and December 31, 2023.
Businesses can purchase no more than $2.89 million in qualified property in order to maximize their deduction.
Qualified property must be tangible, depreciable property, used in the active conduct of business. Examples include heavy equipment, certain vehicles, machines and tools, office equipment, office furniture, computers, software, and certain improvements to qualified real property.
Equipment must be used for business purposes more than 50% of the time.
Equipment must be purchased or leased and placed into service by the end of the year.
Businesses must have a taxable profit.
Businesses can deduct up to $1.16 million in qualified purchases, however Section 179 deductions can only be made up to the amount of taxable income. So, if a business has a taxable profit of $50,000 before the Section 179 deduction and makes a qualifying purchase of $100,000, that business can only write off $50,000 of the purchase in the first year.
Get Your Equipment Before the Deadline
The deadline to take advantage of the Section 179 deduction is December 31, 2023, which means all qualifying equipment must be purchased or financed, delivered and put into service by December 31, 2023. This tax benefit is not automatically applied, and businesses must elect this deduction by filling out IRS Form 4562.
Follow These Steps
Businesses that determine it is in their best interest to take advantage of Section 179 tax deductions can follow these simple steps:
Purchase, finance, or lease qualifying new or used equipment between January 1 and December 31, 2023.
Take delivery and place the equipment in service by December 31, 2023.
Follow instructions and complete IRS Form 4562 and any respective worksheets: http://www.irs.gov/Form4562
Include Form 4562 with your business's tax return.
*Please consult with a qualified tax professional to determine if your business purchases are eligible for Section 179 tax deductions and whether or not taking the full deduction in the first year makes sense for your business.
Final Step
Check out our used inventory online or contact your local Equipment Depot representative today to take full advantage of Section 179. Don't miss your chance to save thousands of dollars by deducting the full purchase price of new and used forklifts, reach trucks, pallet jacks, aerial work platforms, and other qualifying equipment purchases for the 2023 tax year. Call 888.EQDEPOT and a member of our experienced team can help you select the right equipment for your business and explore financing options with low monthly payments.