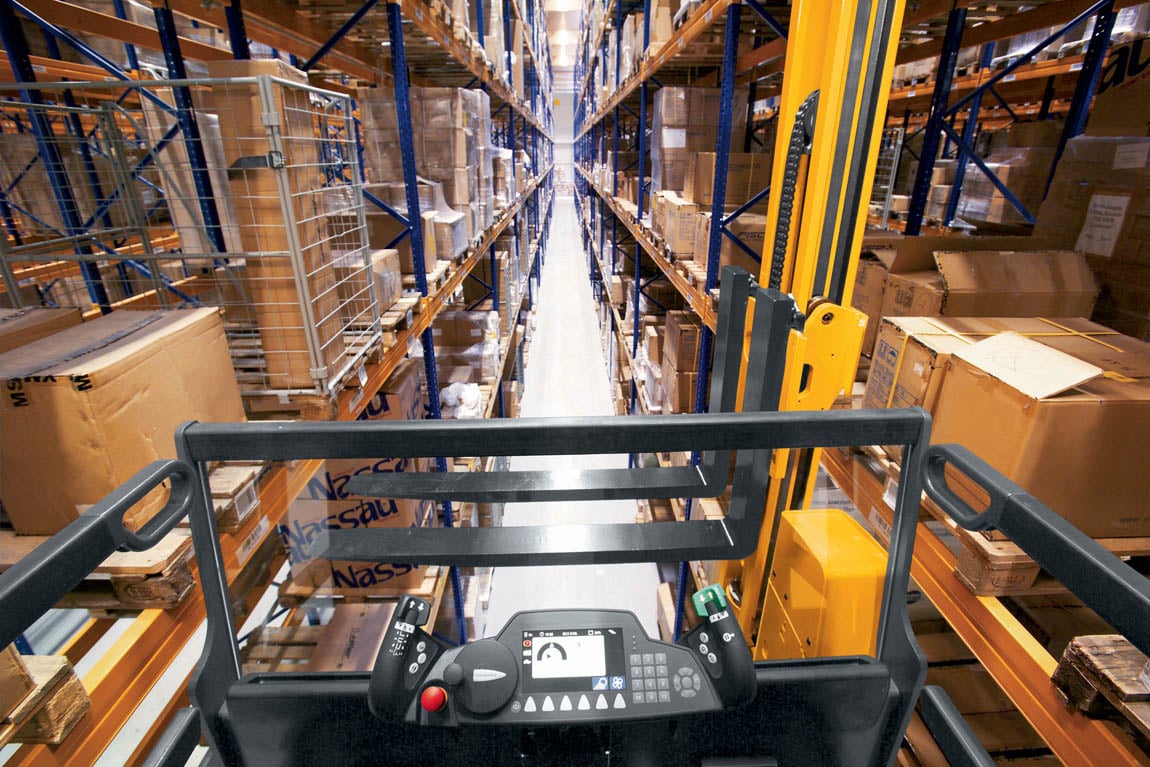 When it comes to warehouse storage, the more you can fit into your existing space, the better. Modern warehouse designs often feature narrow aisles and very narrow aisles between storage racks to maximize pallet positions. To store more products in a finite amount of space, companies are discovering that they need to invest in equipment and racking solutions for these narrow aisles and very narrow aisles, often abbreviated as "VNA."
Aisle Widths
A standard-width warehouse aisle generally measures 12 feet or slightly wider. In an optimized warehouse, a narrow aisle will measure from around 9 to 10.5 feet. For an aisle to be considered very narrow, it will usually be only 5 to 7 feet wide. When you're attempting to move stock in and out of narrow aisles, it can be a challenge. Regular, sit-down counterbalance forklifts aren't able to move around in areas that are this narrow. Even if you could get a standard size forklift into the aisle, it wouldn't have a turning radius tight enough to prevent it from running into the shelves. In order to fully take advantage of these warehouse designs and maintain productivity, material handling equipment needs to adapt - and narrow-aisle forklifts are the answer. Below are some of the best forklifts for operating in narrow aisles and very narrow aisles.
Stand Up Counterbalance Forklift
The stand up counterbalance forklift is perfect for narrow aisles because it is an industry leader when it comes to run time, lifting and lowering speeds, and overall travel speed. A stand up counterbalance forklift has a tighter than average turning radius and can maneuver in smaller spaces than a sit down forklift.
Keep in mind that even though the stand up counterbalance forklift is smaller, it can still move heavy loads. In fact, it can lift up to 4,000 pounds. While warehouse managers often choose to use this type of forklift to load and unload trucks or trailers, you can also use one for stocking and moving pallets around.
Narrow Aisle Reach Truck or Order Picker
Consider getting a reach truck if your storage area has aisles that are less than 9 feet wide. Reach trucks are stacking trucks that help your workers reach extreme heights. Some warehouses have small aisles with products stored high in the racking. A narrow aisle reach truck will give you the most lift height with the fastest lifting and lowering speeds while providing you with plenty of maneuverability. It is important to remember that these reach trucks are not suitable to unload trucks due to the outrigger extensions that aid stability.
Order pickers are designed to increase worker safety when they need to obtain products high upon storage racks or shelving. An order picker has a platform where the warehouse worker stands to take things off the shelf. It also features a pallet in the front that lifts and lowers with the operator. The machine checks the speed and lifting height to ensure that it is working at the safest possible speed, aiding productivity. You can also use this type of machine in very narrow aisles because your workers won't need to turn the equipment to store products. The only task of an order picker is to reach from one side to another.
Turret Truck
Turret trucks are manufactured so that they can operate in very narrow aisles, with the driver's cab moving up and down with the lifting forks. These forklift trucks can handle pallets in confined areas, and most turret trucks can lift products as high as 40 feet. These very narrow aisle forklifts allow you to maximize your usable storage space, since you can move racks closer together and fit more racks within the same footprint. In some cases, using equipment suitable for very narrow aisles can help triple the pallet capacity which may provide you with noticeable cost savings and the ability to fill more customer orders.
Turret trucks let your warehouse staff handle loads to the right, left, and center of the machine. Your workers can stack a product in your racking system without turning the truck. This type of narrow aisle forklift usually comes with a lift capacity of 3,000 pounds as well as a reach of almost 20 feet. They can also stack products at a 90-degree angle, making them a flexible forklift option that enables your warehouse team to move loads quickly and efficiently.
Flexible/Articulating Forklift
Flexible narrow aisle forklifts are similar to turret trucks in that both machines have forks that rotate. The difference with a flexible truck is that it can pick up pallets or other loads from either side of the aisle and from either direction. You might want to consider a flexible forklift if you need to use this type of equipment for a variety of tasks around your warehouse.
A flexible forklift will help your warehouse improve storage handling and can also decrease your order fulfillment time. Warehouse managers who have access to a flexible forklift can eliminate the dead aisle space that counterbalance or reach forklifts require. Depending on the size and layout of your warehouse, this type of forklift can increase your usable storage space by anywhere from 25% to 50%. They can also allow you to reduce double-handling operations.
Check With an Expert
If you are planning to decrease the width of your warehouse's aisles to add more racks and increase your storage capacity, check with an expert about the types of forklifts you might need. Our EQSOLUTIONS™ team can help you plan out your narrow aisle warehouse redesign and all the material handling equipment to make it successful. For more information about narrow aisle and very narrow aisle forklifts, talk to one of our expert sales consultants today at 888.EQDEPOT.