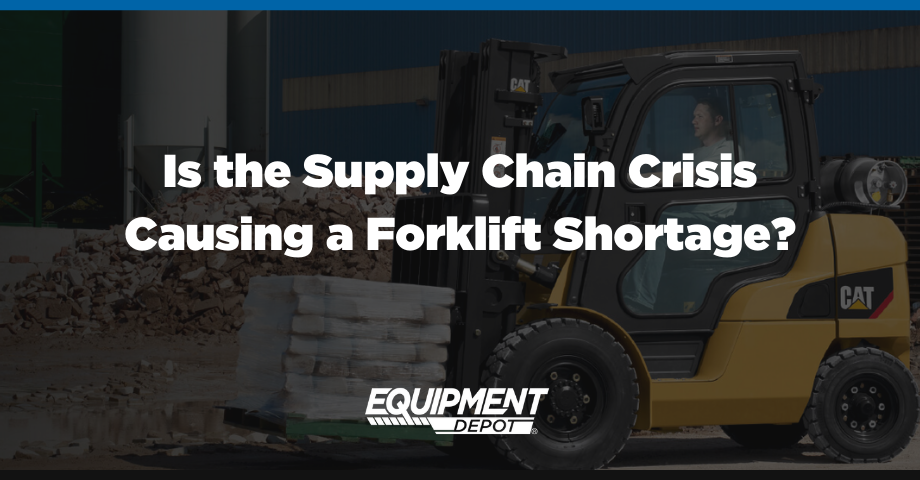 It's been widely reported that the COVID-19 pandemic presented many challenges to the supply chain. From toilet paper to computer chips, the delay of acquiring essential products and components has caused headaches for consumers and hindered productivity for many businesses. Few industries were immune to these issues, and although 2020 is in the rearview, there is no doubt that supply chain disruptions are still happening. Ongoing problems refuse to go away, creating complications for companies across the globe.
Port delays, spikes in freight costs, labor shortages and a lack of parts availability, are some of the issues affecting every step of the supply chain that seem to compound upon one another. As the economy works its way towards recovery and more businesses continue to ramp up capacity, many are still struggling to match customer demand. For companies that are able to get the supplies and skilled workers they need, some face difficulties getting material handling equipment to help manage higher order volumes.
Due to slowdowns in the supply chain, component shortages, and one forklift manufacturer halting production of gas forklifts after failing to pass engine emissions testing, forklift shortages are indeed being seen in some parts of the country. Businesses in these areas looking to add or replace forklifts in their equipment fleet are reporting limited in-stock inventory at their local dealerships and record lead times exceeding one year for common forklift models.
No need to panic.
Allan Leibowitz, editor of Forkliftaction News, explains that strategies exist to address the gap in the market caused by halts in forklift production and shipping, such as the deployment of rental units and promotion of electric alternatives. He also notes that multi-brand forklift dealers should have no problem meeting customer demand by providing customers alternative brands – of which there are many.
Whether you are already feeling the impact or not yet experiencing the effects, there are still ways you can circumvent the forklift shortage.
How you can avoid the forklift shortage:
Do Your Research: Expand your sources for equipment beyond who you typically would buy equipment from.

This is the perfect time to take a look at other leading brands or used equipment options you may not have considered before.

Take Inventory: Assess your current equipment and determine the forklifts you need to add or replace today, accounting for any projected increases in production. As the economy continues to accelerate, make sure your equipment fleet is the right size to handle it.
Act Now: As forklift demand starts to exceed the readily available supply, you may begin to see increased prices on in-stock equipment as well as longer lead times. Reach out to your local forklift dealer now for the best selection and to reserve the forklifts you need while they are available.