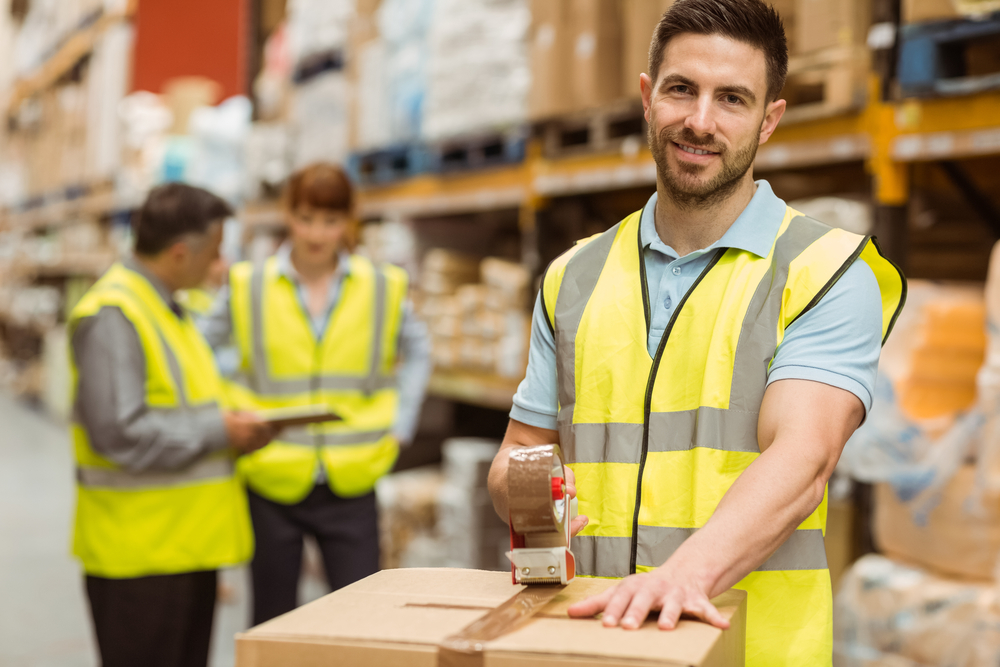 Seasonal sales, special promotions and new product introductions become busy periods for smaller warehouses. With arriving shipments, you need to find the right spaces for merchandise that will later be used to fill orders or restock empty shelves. Material handling equipment increases the productivity level for your warehouse workers while enabling them to safely move pallets, crates and boxes.
There are a lot of equipment options specifically designed to fit in small spaces. Whether your warehouse has narrow aisles, limited space or must function within a tight budget, you can utilize a variety of equipment that will best fit for your operations. Learn about the different types of equipment below

Narrow Aisle Forklifts
Forklifts are standard equipment in most warehouse settings. Smaller warehouse managers and owner/operators can find narrow aisle forklifts that come in slimmer profiles of 43 inches in length (without the forks) and only 33.4 inches wide. These smaller forklifts can lift an average of 750 to 1,100 pounds and can run on diesel or electric power. When your workers need to rack pallets in small warehouses, a narrow aisle reach truck is ideal to get into tight spaces while lifting heavy loads. These reach trucks have a lift capacity of 2,500 to 5,500 pounds. Narrow aisle reach trucks can extend up to the distance of one or two pallets.

Walkie Stackers
Similar to forklifts, walkie stackers have forks that can lift pallets and shipments to different warehouse areas. The worker walks behind the walkie-stacker and uses the control lever to operate the equipment. Other walkie-stackers enable the operator to stand on the equipment to save even more space. This material handling equipment has a lift capacity of 3,000 to 5,000 pounds and works best when you are moving shipments for short distances.

Hand Trucks
Also called dollies, hand trucks have two wheels, a metal frame and are manually operated. Hand trucks are commonly used when moving smaller, more lightweight items to the storefront shelves or from the back of delivery trucks when a forklift would not be convenient. Hand trucks can lift items weighing 300 to 1,000 pounds.

Platform Trucks
When you need to unload deliveries or move numerous small boxes or products by hand in a quickly, a platform truck can do the job in smaller warehouses. A platform truck is a different type of hand trolley with a long platform bed. It can have a handle on one side, or two taller handles on each end.

Pallet Jacks
Pallet jacks allow workers to walk behind the equipment as they can transport pallets to areas throughout your warehouse. Using hydraulic functions to lift the forks and raise the pallets, a pallet jack has a lifting capacity ranging from 1,100 to 5,500 pounds of maximum load.



Order Pickers
Order pickers are larger than walkie stackers but smaller than a small-sized forklift. They are commonly used to retrieve items from shelves to fill sales orders. Order pickers can lift up to heights of 10 feet to 30 feet with lift capacity ranging from 3,000 to 5,000 pounds.
Getting the Right Equipment for Your Small Warehouse
The right material handling equipment improves efficiency and helps warehouse managers get more productivity from small warehouse spaces. In addition, this equipment provides a safer work environment for warehouse staff as they don't have to struggle lifting heavy boxes or other merchandise by hand. You can better organize and optimize warehouse space using lift equipment that enables you to stack pallets instead of spacing them out along the warehouse floor.
If you manage a smaller warehouse with narrow aisles, consider the functionality, durability and efficiency of material handling equipment to get the most out of your warehouse operations. At Equipment Depot, we offer a wide range of equipment options and the option to purchase new equipment, buy used equipment or rent equipment based on your budget and unique needs.