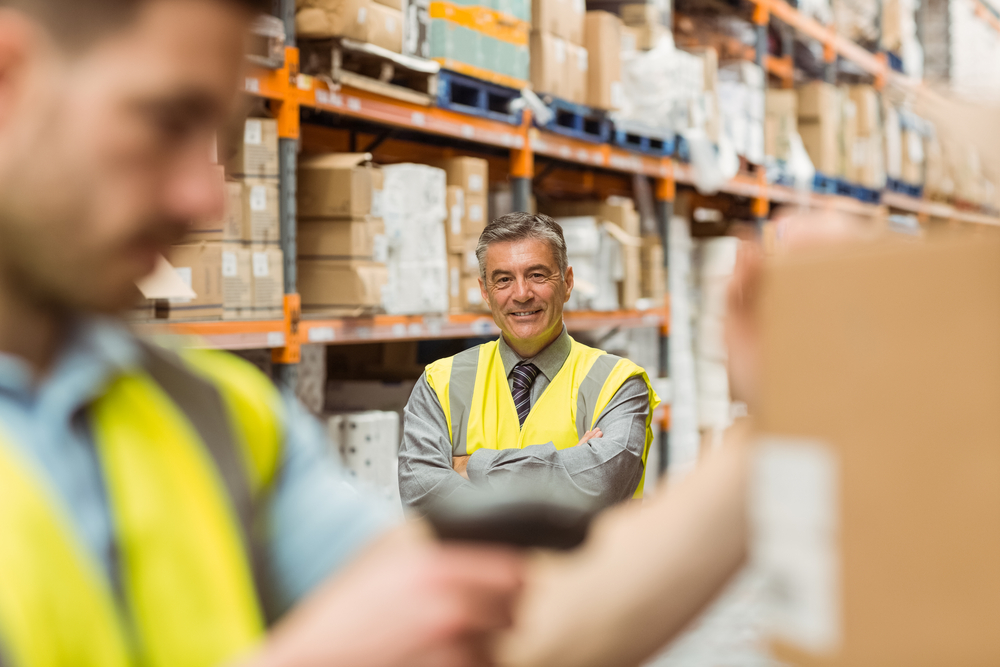 Receiving merchandise, storing items on shelves, picking, packaging and shipping deliveries are just a few of the main activities that occur in large warehouses. Workers are constantly on the move trying to keep operations running optimally. Yet warehouse supplies can become lost or misplaced. Damaged goods may end up being shipped by mistake, and disorganization can create an unsafe and inefficient work environment.
Warehouse management solutions can improve your large operations while minimizing order errors. Here are the top five tips to consider when it comes to organizing your warehouse.
1. Implement Warehouse Organization Systems and Best Practices
A warehouse organization system is a plan detailing the strategies and policies that supervisors and workers follow during daily work processes. It takes into account all your warehouse assets, such as material handling equipment, warehouse supplies and shelving systems. In addition, it documents warehouse loading and unloading procedures, racking processes, order fulfillment duties, shipping procedures and each worker's role in the warehouse.
This warehouse organization plan shows how each process is accomplished as well as provides best practices to identify and address inefficiencies. This system helps ensure that you are maximizing your warehouse equipment, staffing levels, warehouse space and processes in the best manner to keep your warehouse organized and productive.
2. Improve Warehouse Layout Designs
The key to improving inventory management may lie with the warehouse layout itself. Even large warehouses have to deal with space issues. If popular items are hard to reach or in the far corners of the building, it causes inefficiencies and wasted time. Also, consider the flow of the warehouse and avoid things like floor pallets blocking access to aisles that can lead to workers taking round-about routes. Inspect the layout design of your warehouse, move aisles or adopt other shelving systems to ensure a better floor layout.
3. Adopt an Organization Duty List
A warehouse cannot organize itself. Creating a daily list of tasks and duties will help your team keep everything organized and maintain a safe warehouse environment. The list should include routine cleaning schedules to minimize clutter and clear debris or spills to guard against any accidents. It should also include regular inspection and maintenance schedules for your material handling equipment, such as forklifts and reach trucks.
Another regular task to include on the organization duty list is an inventory stock counting system. Counting stock gives you an accurate record of how many items are in the warehouse and allows you to take note of missing inventory. You can also review your labeling systems to ensure all items include the right information and are placed in the appropriate designated shelf area or sorting zone.
4. Use Sorting Organization Methods
Your large warehouse may have items that are more popular during certain times of year, as well as regular stock that is always in customer demand. Yet these items could be sorted among products that do not move as frequently. Consider using a sorting organization method such as the ABC analysis.
This method sorts your items based on their level of demand and how much it costs to store them. All A-type items include your bestselling merchandise that does not impact your warehouse storage expenses. The B-type items cost more to store than A-type products yet are middle-range when it comes to customer demand. The C-type products are the most expensive items to store because they are not sold on a regular basis.
By grouping items based on the ABC analysis, workers can sort and pick products more efficiently. Because they do not have to travel back and forth from different warehouse zones to fill orders, workers waste less time and can process more orders.
5. Consider Lean Inventory Management
Lean inventory management eliminates product waste and prevents obsolete items from taking space on shelves. The practice involves only receiving and storing the items that are needed. By eliminating excess inventory stock, you increase warehouse space and boost order fulfillment times. It can also increase delivery, sorting and stacking processes because trucks are not delivering large shipments and workers can place items on shelves more quickly.
Every large warehouse will experience unique operational management issues when receiving inventory shipments, sorting and picking stock, and dealing with product waste. These five warehouse management tips can ensure you have the right strategies and procedures in place to create a safe and organized environment.
Need help with warehouse solutions? Our warehouse design experts can help you assess your current operations and develop the ideal layout as well as the best mix of equipment fleet and supplies to maximize your productivity. Contact us for a holistic approach to your warehouse needs.