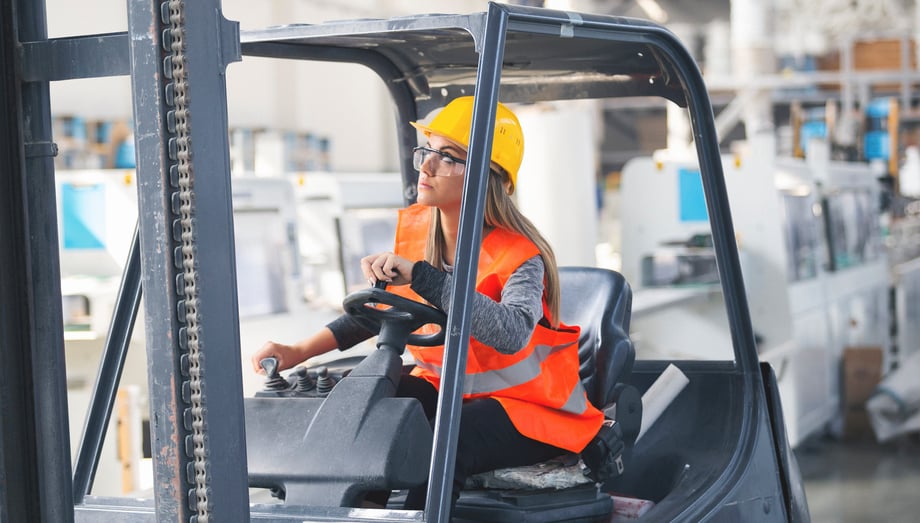 We know your warehouse and distribution center is busier than ever. This usually creates additional stress on your operations team and your equipment, making forklift safety extremely important. Take a look at our forklift safety checklist as a good starting point to ensure a smoother and safer operation. These five forklift safety tips will benefit both your forklift equipment and operators.
1. Train for Safety
Keeping your team safe begins with proper training. OSHA's standard on powered industrial trucks requires training programs to include components of formal instruction, practical training, and a workplace performance evaluation.
Remember these details:
Forklifts vary, even among forklifts of the same class and manufacturer
Evaluate an operator's skills based on equipment and conditions within the work environment
Re-train every three years to emphasize safe practices
2. Wear Appropriate Clothing
Let's review the ideal clothes to wear while driving or operating a forklift. This applies to truck loaders, warehouse workers, dockyard hands, and all other forklift jobs.
Operators should wear appropriate safety work wear like hard hats, safety shoes, and high-visibility jackets
Work wear and uniforms must fit well. Loose clothing can get caught on machinery!
Greasy hands could slide off the controls and cause an accident. Remind team members to check their hands often
3. Inspect the Equipment
Does your team always inspect the equipment? It is important to check the equipment every day before using it to identify any problems.
Daily checks for any faults with brakes, steering, controls, warning devices, mast and tires should be completed by each operator.
Notify management of any issues. The forklift should not be operated if there are damages or problems that need repair.
Qualified technicians should only perform repairs and maintenance.
4. Familiarize Your Team with Starting and Stopping the Forklift
Your team should use the steps and hand grabs to seat themselves correctly in the forklift. Once inside:
Ensure all the equipment's controls are in reach and the seat position is ideal. Adjust mirrors as needed.
All body parts should be safely inside the confines of the forklift. Operators shouldn't start the forklift until they are seated with their safety belt fastened.
To exit, the operator should park the forklift in an authorized area. Fully lower the forks to the floor and apply the park brake. Turn the forklift "off" and remove the key.
5. Know Your Environment
Advise your team to always look in the direction of travel and be fully aware of what is happening in the surrounding areas.
They should:
Confirm the route is clear. Sound the horn as a warning alert at corners, doorways, and entrances. Follow speed limits and keep a safe distance from other trucks.
Avoid hazards by using headlights if working at night, outdoors, or in areas in which additional lighting would improve visibility.
Use a spotter if there are dangerous blind spots. This alerts pedestrians and other forklift operators of your whereabouts to avoid unnecessary collisions.
Safety Excellence is our Priority
Help your team maintain safe work practices by following these key tips that should be on your forklift safety checklist. Our Safety and Training professionals are here to support your efforts to provide a safe and productive work environment. Contact us for all your safety training needs.