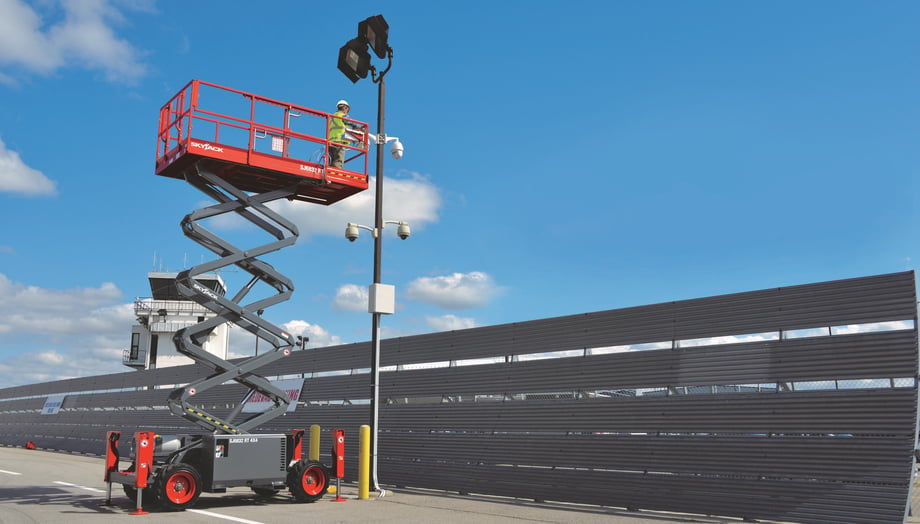 How do you choose the right aerial lift for your project? Well, the first step is to determine which option is best suited to optimize your operational flow. For this reason, more businesses are investing in scissor lifts to increase productivity and decrease cost.
Scissor lifts serve the same purpose as ladders and scaffolding. The difference is that scissor lifts are safer, more reliable and offer more carrying capacity.
For any aerial lift purchase or rental, start by evaluating the minimum and maximum requirements of the equipment in its planned operations.
Here are a few factors to consider when choosing a scissor lift:
Job Location
Where will you use the scissor lift? Is the job indoors or outdoors? Location plays a large role when buying or renting aerial lifts. Low-emission electric scissor lifts deliver a quiet, convenient solution for sound-sensitive indoor environments, such as office buildings, retail stores, hotels and schools. Internal combustion scissor lifts and boom lifts offer outdoor functionality for a variety of applications, such as muddy construction sites.
Application
What kind of work will you perform with the aerial lift? Typically, electric scissor lifts are best suited for indoor applications, such as warehouses, factory floors, hangers, auditoriums, gymnasiums, and galleries. Electric lifts are standard in indoor environments, but they also work well outdoors or any environment with hard-level surface.
NOTE: If you are planning to use an electric scissor lift outdoors, make sure you have an electric outlet nearby to charge the unit.
Rough-terrain scissor lifts are tough, construction-oriented machines. They are built to stand up to the rigors of outdoor worksites.
Work Height
How high are you going? To determine the right platform height, you must first assess your work height. This will vary, depending on whether you are changing a lightbulb inside a warehouse or working on a window outside a building. Electric scissor lifts can reach a maximum height of 40 feet. Rough-terrain scissor lifts can access heights up to 53 feet. Rough-terrain lifts can be either electric or IC.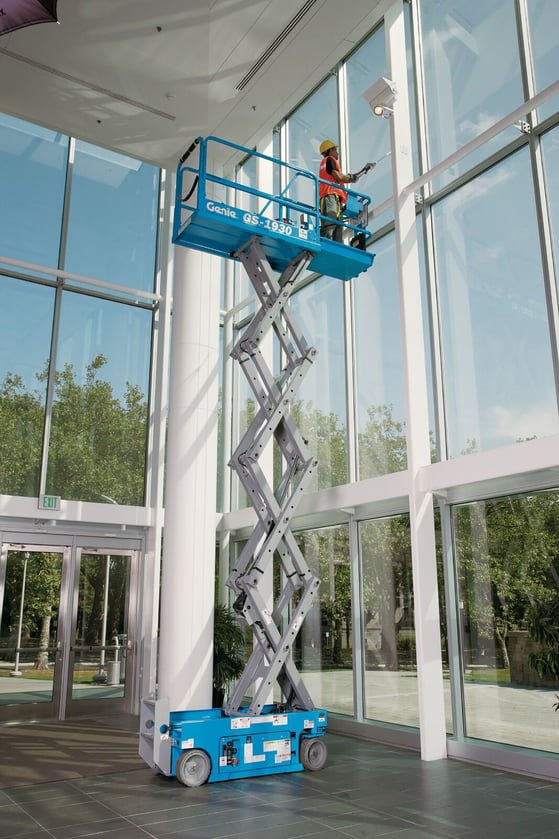 Load Capacity
What are you lifting and how much does it weigh? How many people and materials will be on the platform at once? To pick the right scissor lift, first determine the combined load capacity of personnel and materials. For example, you should not put 900 pounds of weight on an 500-pound machine.
Tires
What are the ground conditions? The terrain will determine the most suitable tires. Solid, non-marking tires are good for indoor use. Rough-terrain tires, with an aggressive tread design, are good for outdoor, muddy or wet ground conditions.
Power Source
What is your preferred power source? Battery or fuel? Battery-powered electric scissor lifts are great for indoor and retail environments, because electric energy is clean and free of pollution. Electric aerial lifts utilize deep-cycle and are equipped with battery chargers that automatically turn off when the battery is fully recharged. Electric models are usually light and reduce wear on flooring. They also feature smooth wheel surfaces designed to leave no tracks.


Internal combustion engine models are great for construction work where heavy-duty outdoor use is standard. The engine provides the horsepower to produce the hydraulic pressure and flow necessary for high performance.
The Five Ws of Choosing the Right Scissor Lift
The key to choosing the right aerial equipment is to ask the right questions. When buying or renting an aerial lift, it pays to remember the Five Ws:
Who? Who will be on the platform, and what is the combined weight of people and material?
What? What is the terrain and work to be performed?
Where? Where will the work be performed, and how high is the work area?
When? When will you be using the aerial lift and for how long?
Why? Why is this the best equipment for the job?
If you are planning to buy or rent scissor lifts, Equipment Depot is your most reliable source for finding the best fit. As the largest independently-operated material handling and rental source in the nation, we offer a wide variety of industry-leading brands.
Visit our website to learn more about our scissor lift options.