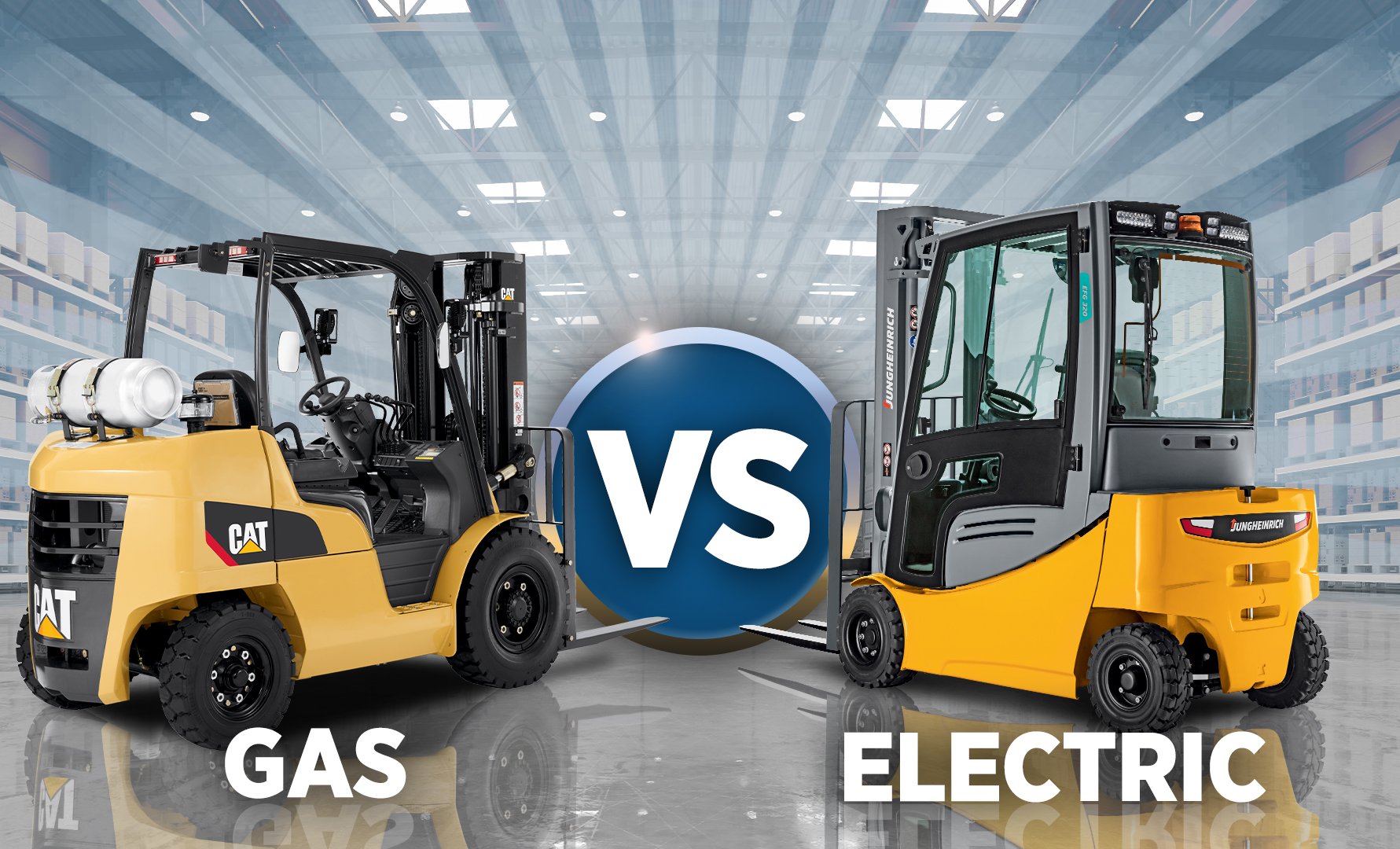 If your business relies on material handling equipment to transport pallets of goods or other heavy items, you may be wondering which type of lift truck is best for your use cases. In this article, we'll outline several factors to consider to help you choose between the two most common types of forklifts - liquid propane gas (LPG) forklifts or electric forklifts.
Each type has its pros and cons. Depending upon the materials you handle and the way you move products and freight, one will provide significant advantages over the other. To make an informed decision that benefits your bottom line, it's important to learn more about gas or propane-powered forklifts as well as electric forklifts powered by industrial batteries.
How Do Fuel-Powered Forklifts Work?
Forklifts with engines that are fueled by gasoline or propane have internal combustion (IC) engines similar to those of cars. IC forklifts have been the industry standard for nearly a century, providing dependable operation, power and performance. However, with fuel costs rising and environmental concerns at the forefront, many industries are looking for a forklift that is cheaper to run and more environmentally friendly.
How Do Electric Forklifts Work?
Electric forklifts run on electricity stored in a lead-acid or lithium-ion industrial battery. They have fewer moving parts than an IC forklift, and they require less maintenance, too. One limiting factor with this type of equipment is the need to recharge the batteries every few hours for some models. However, they are quieter, reduce spending on power and maintenance, and do not create exhaust emissions.
The Benefits of Electric Forklifts
Although gas and propane-fueled engines have been the industry standard for decades, that is quickly changing with the need to reduce carbon emissions and dependency on fossil fuels. Electric forklifts are the emergent technology for warehouse loading and storage. About 70% of annual forklift purchases are electric models, and that trend is growing.
Unlimited Fuel Supply
An electric forklift never has to run on empty because it operates on rechargeable batteries rather than fuel. If a facility keeps extra charged batteries in reserve, a quick battery swap is all that's necessary to keep an electric forklift powered up throughout the workday. Recharging a battery takes several hours, and then it must cool for several additional hours. With some electric forklifts, they only run for about 8 hours on a single charge, so it is critical to keep charged batteries in reserve. However, with select energy-efficient forklifts such as those from Jungheinrich®, the equipment can run for 16 hours on a single battery charge, which can eliminate the need for reserve batteries while extending the battery lifespan and reducing spend on replacements.
Zero or Drastically Reduced Emissions
Electric forklifts do not produce exhaust, so they don't emit toxins. Therefore, they do not release harmful chemicals into the atmosphere and are safer to use in enclosed environments like warehouses.
Requires Less Maintenance
An electric forklift system is not as complex as an internal combustion engine and typically has longer maintenance intervals. Most electric forklifts have 500-hour service intervals, versus 250-hour service intervals for gas forklifts. As a result, maintenance costs for IC forklifts are typically 25-50% higher than for electric forklifts. Some brands, such as Jungheinrich®, have maintenance intervals of up to 1000 hours, generating additional savings. While maintenance needs are less frequent, it is important to keep the batteries clean and fully charged when not in use. You should have the wiring checked every six months and take care to follow the manufacturer's maintenance instructions. Electric forklifts meet or exceed the longevity of IC equipment, with an average life expectancy of about 12,000 hours.
Reduction in Workplace Noise and Pollution
Electric forklifts are much quieter than their IC counterparts and do not have large propane gas tanks obstructing the operator's view at the back of the forklift. They are also cleaner, with zero exhaust. These benefit workplace health and employee well-being.
The Benefits of IC Forklifts
If your warehouse is already established and your storage system is designed for gas or IC forklift use, you may not want to revamp your entire warehouse to accommodate a different type of lift truck. In this situation, adding to your existing IC fleet may benefit your company.
Refueling on the Fly
Another benefit of IC forklifts is the ease of refueling. You simply trade the empty LP fuel tank for a full one or refill your tank with gas, and you're ready for your shift.
Long-Lasting With Regular Maintenance
An average IC forklift provides up to 10,000 hours of service. Regular maintenance and repair keep it going strong.
Familiar and Proven Technology
Because most forklifts in service today are still powered by internal combustion engines, the IC forklift uses a familiar technology. Even though some training is essential to operate it, a gas or propane forklift is a trusted style of equipment that has stood the test of time.
The Cost of Electric vs. Gas Forklifts
How do the different forklift types compare in terms of purchase price and operating costs? Your initial cash outlay will likely be up to 20% higher for an electric type than a gas or propane-powered forklift, and making the switch to electric may require infrastructure changes. Because IC equipment has been in use longer than electric, you'll find a greater variety of used forklifts, too. However, when you compare operating and maintenance costs, you'll see significant savings with electric forklifts compared to IC forklifts. Electric forklifts also last longer, reducing the frequency of new forklift purchases.
Can You Use Gas & Electric Forklifts Inside?
Gas forklifts emit toxic exhaust and are generally safer for outdoor use. Propane forklifts also emit toxins like carbon dioxide, but they can be safe to use in a well-ventilated indoor environment.
Since they create no exhaust, electric forklifts are safe to use indoors. Models that are sealed against weather are designed for use outdoors, too.
Electric Forklifts Pros and Cons
Pros
New, improved technology
Lower energy and maintenance costs
Quick power-up with pre-charged batteries
More agile in tight spaces
Cons
New technology requires retraining and reorganization
Higher initial purchase price
Charging batteries takes time
IC Forklifts Pros and Cons
Pros
Familiar and time-tested
Lower initial cost
Quick and easy refueling
Cons
Outdated technology
Higher fuel and maintenance/repair costs
IC engines emit toxic exhaust
Gas forklifts are intended for outdoor or well-ventilated use only
We Can Help You Choose the Right Forklift Type for Your Operation
Internal-combustion forklifts are time-tested and reliable equipment that can handle large loads and come at a lower initial cost. Going electric is not only good for the environment, but can also save your company maintenance and fuel costs in the long term, while increasing productivity. Your specific business application, work environment, and infrastructure will inform the ideal solution for you. For more information and help determining which forklifts are right for your business, talk to one of our expert consultants today at 888.EQDEPOT.