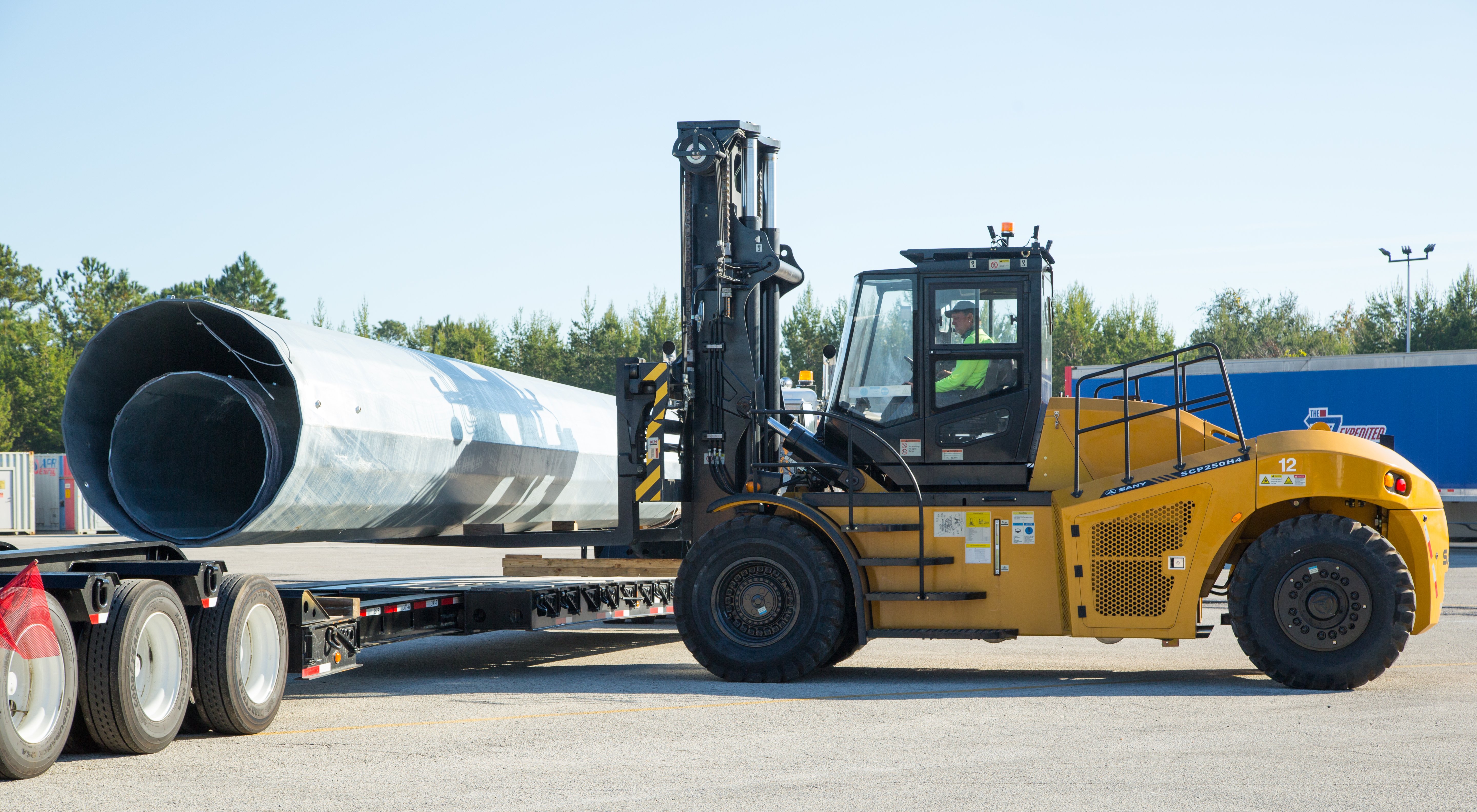 Heavy duty equipment such as high capacity forklifts, reach stackers, and container handlers are used in a range of industries worldwide to transfer freight containers and other large loads quickly and efficiently. With the increased lift capacity of these heavy trucks, there is an increased need for safety in order to prevent injuries to operators and damage to cargo. While all heavy trucks come standard with select safety features, many other advanced, optional features greatly improve operator, pedestrian and equipment safety, contributing to a more productive workforce. Read on to learn more about the importance of safely operating heavy equipment as well as the features that can help you protect your team and your cargo.
What are the standard heavy equipment safety features?
All heavy equipment comes with standard safety features designed to protect the operator, the equipment itself, the facility and materials around it, and any other operators or pedestrians in the vicinity. This is particularly important due to the sheer size and power of heavy equipment.
Standard safety features built into most heavy equipment include brake lights, turn signals and LED lights. Brake lights and turn signals indicate the presence and intended direction of the truck to pedestrians and other operators, which prevents collisions and accidents. LED lights allow operators to maneuver in low-light situations, a feature that is especially important in work environments that operate overnight such as ports. Most heavy equipment also comes equipped with fire extinguishers in the cab.
What are the types of advanced heavy equipment safety features?
Other safety features are typically considered add-ons and come at an extra initial cost or must be purchased aftermarket. Some examples include rear view cameras, load-sensing technology with lift interrupt, and speed control systems that help prevent tip overs. These advanced safety features are offered by most manufacturers as an add-on that can be installed before delivery. Additional features such as pedestrian awareness sensors and fire suppression systems are offered by some manufacturers, but often must be purchased and installed after the equipment has been received.
Rearview Cameras
The increased visibility provided by rearview cameras allows operators to monitor for objects and people behind the equipment and safely maneuver it in any direction. This feature is very important given the height and blind spots associated with heavy equipment.
Safety Start/Stop Engine Control
Per OSHA standards, heavy trucks need to idle when started up before being operated. This gives the engine components and chemicals adequate time to warm up, preventing failures when lifting and moving loads. Safety start/stop engine control prevents operators from using a truck until temperatures meet those requirements.
Load-sensing Technology with Lift Interrupt
Heavy equipment operators often need to weigh their cargo as well as operate the lift truck differently depending on the size of their load. Load-sensing technology with lift interrupt prevents a piece of equipment from lifting a load that is too heavy or from lifting when the battery is low. This feature automatically controls the speed and power of the equipment when moving containers or other cargo, which helps prevent malfunctions that can damage the equipment and materials, or injure pedestrians and operators.
Ground Speed Control
Ground speed control automatically reduces the speed of the equipment when the mast is raised above a certain height. Governing the driving speed of heavy lift equipment helps prevent tip-overs that can result from sudden stops.
Stability Systems with Rollover Protection
Stability systems with rollover protection control the equipment's speed when turning and when maneuvering heavy loads. Systems that automatically stabilize and slow down a machine when it is turning helps prevent rollovers, protecting the operator and the cargo.
Pedestrian Awareness Systems
Pedestrian awareness systems use sensors to detect the presence of bystanders and alert the operator with warning lights and sounds when they are nearby. Some systems also engage the brakes if the operator fails to respond appropriately, which helps avoid accidents (or worse) when pedestrians are unaware and the operator cannot see them from the cab.
Fire Suppression Systems
Fire suppression systems detect and defuse fires before they can cause serious damage. Installing these systems in the cab protects the operator, while fire suppression systems in the engine compartment protect the engine and surrounding components.
Central Greasing Points & Separate Brake and Hydraulic Cooling
Advanced engine components can reduce the risk of malfunctions while extending the life of the equipment. Central greasing points and separate brake and hydraulic cooling all improve the engine operation by preventing malfunctions, reducing wear and limiting the need for maintenance.
Steer Axle Dampeners
The steer axle is one of the most important components in heavy machinery and high capacity lift trucks. Steer axle dampeners protect heavy equipment from prolonged wear and damage while providing stability and comfort.
Heavy material handling equipment like heavy duty forklifts, reach stackers, and empty and loaded container handlers are a critical part of any port or distribution operation. Advanced safety features included with or available as options for these machines are designed to protect operators, the equipment and pedestrians, so you can minimize downtime and maximize productivity.
Because SANY believes safety should never be an option, they manufacture their heavy equipment to include a wide range of advanced safety features and systems as standard equipment on all of their machines. These additions would cost more than $40,000 if purchased as add-ons from other manufacturers. SANY's heavy duty forklifts, reach stackers, and container handlers are all designed with safety, power and durability in mind. That's why they are backed by the strongest warranty in the industry: 3 years or 6,000 hours comprehensive coverage.
To learn more about heavy equipment safety features and how SANY equipment can improve the safety of your business and its employees, talk to one of our expert consultants today at 888.EQDEPOT.