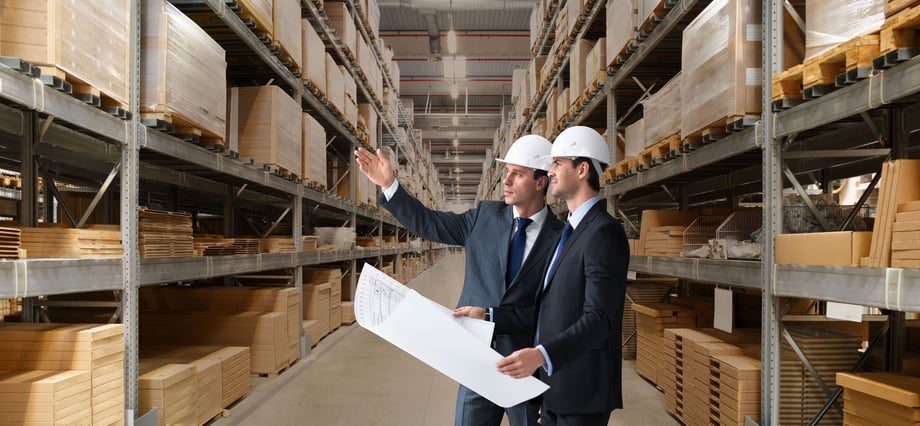 Many warehouses and distribution centers have limited space, but continue to deal with increases in inventory. This presents a big challenge for facility managers, who are constantly under pressure to optimize available storage space. When a warehouse hits about 85% of its occupancy, it is considered "out of space." Are you getting close to that percentage but want to avoid expensive upgrades?
There are numerous ways to increase your storage capacity without expanding your warehouse or distribution center. While many operations have already converted to narrow aisle layouts and equipment, vertical racking systems, vertical lift modules, and mezzanine storage can also provide warehouse storage solutions that help you better utilize the vertical space in your facility.
It's All About Going Vertical
Because most warehouse operations leaders tend to look at the horizontal aspects of their facilities, it's easy to overlook available vertical space.
Today, the most efficient warehouses and distribution centers take full advantage of their vertical space by implementing solutions such as vertical lift modules (VLM), pick modules and mezzanine storage. A VLM is designed to maximize storage by using the facility's total ceiling height, providing better storage options for heavy and bulky items. Mezzanine storage is another vertical choice that allows distribution centers to expand their space within the same footprint as existing storage structures.
Just remember that the sky is not always the limit when extending upward with your storage. For example, be mindful of any fire suppression sprinkler systems that could restrict your options.
Types of Warehouse Storage
Warehouse storage comes in a wide range of options. In many warehouses, pallet racking or selective rack is the standard option. While these basic systems use a forklift and pallet, they take up space on the warehouse floor.
Some shelves are static and designed to handle lightweight items. With mobile shelving, warehouse workers can access products either manually or mechanically. These shelves are often placed on a rail, meaning they can be moved to alternate locations.
If you're looking to store long items such as steel trusses, piping, or lumber, the cantilever rack system is a strong option. These racks have long arms that securely hold inventory. While cantilever racking is more efficient, you will need special equipment to reach inventory stored in the highest spots.
Multi-tiered racks and mezzanine flooring are also good choices, especially if you want to increase vertical storage in your warehouse. Alternatively, you can use vertical lift modules to use vertical space and a smaller footprint in your warehouse.
Vertical Lift Module
A Vertical Lift Module (VLM) is almost like a robust vertical file cabinet with shelves. By utilizing automatic lifts and taking advantage of vertical space, VLMs allow you to store many items and goods. VLMs often replace shelving to take advantage of vertical space and because they offer a smaller footprint within the warehouse.
The VLM acts as both a storage and retrieval system, with trays stored vertically at the rear and front of the device. A worker can operate an extractor with a barcode scanner or a push button, and the tray will pick up the stored goods and move them to the access opening. This increases efficiency as operators are not having to walk back and forth and inventory control is built into the system. You can use a vertical lift system in many types of buildings no matter your height restrictions.
Some VLM models use pallets within their systems and the pallets can be moved with the same forklifts already in use throughout the warehouse or distribution center. Once the pallets have been removed, the goods are taken to the appropriate spot in the VLM cabinet. All the horizontal movement is controlled with switches in the system.
When it is time to store any of the goods, an automatic side height device will determine the size of the product. From there, it finds the best place to store the items. These vertical lift modules do have stand-alone automatic, manual, and online automatic operation modes. When comparing this system against other vertical carousels, these models are better for storing items with irregular shapes or significant size differences.
Pick Module
Pick modules are multi-level racking systems designed for inventory storage and order fulfillment. They can be designed in a variety of ways and can be built for manual picking, automated picking, or a combination of both. When built for manual picking, they have stairs on the end and walkways along each rack for workers to easily access all products, with a central conveyor to deliver items to a packing and shipping zone.
Incredibly adaptable to unique warehouse and operational needs, pick modules can incorporate a variety of storage elements and systems, such as:
Carton flow
Pallet flow
Conveyors
Shelving
Selective rack
Push-back rack
Due to their large size and ability to incorporate so many different storage systems, pick modules are best suited for large operations with plenty of space.
Mezzanine Storage
Mezzanines and elevated work platforms allow warehouses and distribution centers to add levels between the main floor and ceiling. This flooring is partially open to the main floor and allows you to maximize the existing space in the building.
While there were only a few mezzanine options in the past, modern mezzanine storage solutions enable you to add a second or third level and come in several choices:
Free standing mezzanine structures can be quickly set up within your existing storage space
Building-supported mezzanine storage (supported by the building's foundation or structural columns) is designed to handle heavy loads
Rack-supported mezzanines utilize the space between storage racks, with a catwalk to access the products
Shelving-supported mezzanine levels are a great way to store small products close to oversized items
Determining the right solution for your warehouse or distribution center can be challenging. As you receive more goods, you need a place to store them. But by thinking about vertical options, you can find a solution to keep everything safe, secure, and easily accessible.
Need More Information on Vertical Storage Systems?
When space is limited, you need to choose the best system to resolve your storage problems. When you need help choosing the right vertical storage system for your warehouse, the Equipment Depot is ready to answer your questions. Talk to one of our expert warehouse solutions designers by calling 888.EQDEPOT today.