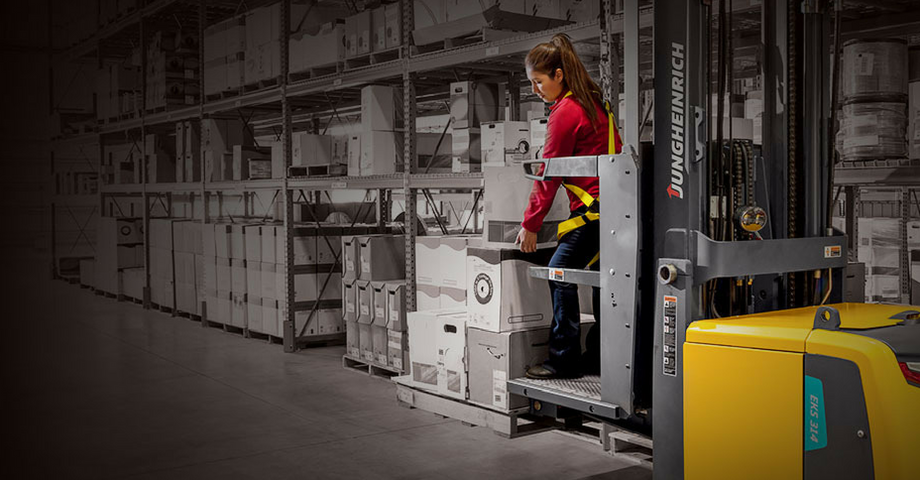 The future of forklifts is electric. Electric forklifts now represent over 63% of the industry, according to a 2016 report by Material Handling & Logistics. So, what is driving the shift to electric forklifts?
Here are nine reasons the material handling industry is turning to electric:
Lower Total Cost of Ownership:
Many decision makers rarely look beyond the initial cost of ownership when buying new forklifts, electric or internal combustion (IC). Some companies realize the benefits of assessing the total cost of ownership (TCO). TCO gives you a more accurate picture of what it would cost to purchase, operate and maintain a forklift. Compared to IC trucks, electric lift trucks have a lower total cost of ownership. For example, a study in Ohio found that the cost to recharge an electric forklift ranges from $1.50 to $4.50 per 8 hour shift, while the cost to operate a liquid propane gas forklift runs from $18 to $25 per bottle fill.
Increased Productivity:
Electric forklifts help boost productivity. You can run some Jungheinrich forklifts continuously for 16 hours without having to stop and charge. This keep your workday running smoothly, while increasing efficiency. Over the course of a shift, Dixon Valve obtains 15% more picks with Jungheinrich order pickers, according to warehouse manager Brian Ford.
Zero Emissions:
Electric lifts are cleaner to operate, hence better for the environment. They produce zero emissions and eliminate the need for warehouse ventilation. In addition, these trucks do not use disposable waste fluids, such as engine or transmission fluids.
Reduced Carbon Footprint:
With 45% less CO2 than fuel cells and 98% recyclable batteries, electric lifts help reduce your carbon footprint. A battery also means a quiet operation.
Noise Reduction:
Electric forklifts are significantly quieter than IC forklifts. This can make a big difference when running multiple units in a facility. In fact, our customers often cite this as a major benefit. They are quick to mention the noticeable noise reduction after switching to electric.
Better turning radius:
Electric lift trucks thrive in indoor environments. They are smaller, which makes them more maneuverable in tighter spaces and narrow aisles. Because of an efficiency shift toward narrower aisles in warehouses, there is a greater need for lift trucks that can turn within tighter spaces. Electric forklifts enjoy this advantage over IC forklifts.
Battery Advantages:
Electric forklifts have evolved over the years. Several Jungheinrich lifts are designed to retain high levels of energy efficiency. This allows them to run for up to two shifts without the need to stop and recharge. Also, batteries can be changed in less time than it takes to refill the tank on an IC forklift.
Safer for Indoor Environment:
Sure, electric forklifts are versatile for their ability to navigate small and narrow spaces. Did you know that they are also versatile in application because there is no risk of toxic emissions? They are great for food distribution centers, freezers, and medical environments where carbon monoxide emissions from IC trucks would be a concern.
Energy Regeneration:
AC electric forklifts regenerate a large amount of energy, which is then transferred back to the battery. Regeneration works as the forklift carries out its normal tasks. Thus, most of what would otherwise be wasted energy is utilized to its full potential while running the forklift.
Key Takeaways:
We have come a long way from the days when the idea of forklifts powered by anything other than gasoline or diesel was merely a dream. Electric forklifts have become increasingly popular in the lift truck and material handling industry over the past decade.
When choosing between electric forklifts and internal combustion (IC) forklifts, here are a few questions to consider:
Is it an indoor or outdoor project?
What materials or products are being handled?
What is the acceptable noise level?
What are the safety expectations?
How many hours will the forklift run per day, per week, and per year?
What are the maintenance costs and schedules?
What is the total cost of ownership?
Ultimately, your choice comes down to what is best suited for your business needs. There are pros and cons of both electric forklifts and IC forklifts. With electric lifts being more common in many operations, it is clear to see the benefits and advantages over IC forklifts.
Want to double your productivity on just one charge? Discover how with Jungheinrich's innovative electric forklifts.