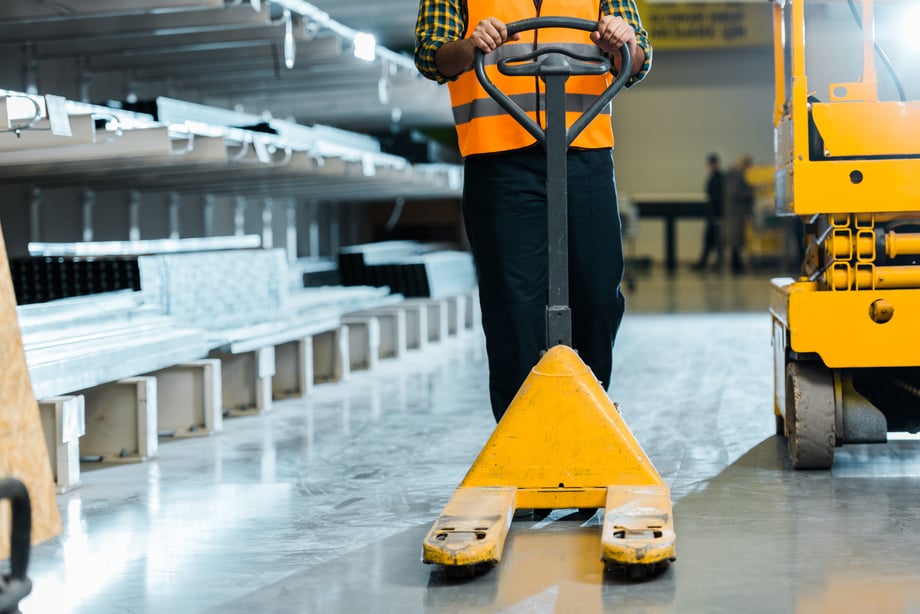 Manual pallet jacks, used to lift and move pallets and other loads, are a great alternative to forklifts. They are smaller, require less upkeep plus operators are not required to be OSHA certified to use one. Although you may not need an official certification, it is important that everyone who uses a pallet jack is familiar with the safest ways to operate the equipment.
Use these tips to make sure you, and everyone on your team, operate pallet jacks safely.
What to Wear
Make sure you wear steel-toed shoes when operating a pallet jack. The load could shift and end up breaking toes if not careful. Operators should also wear gloves ensure a good grip on the pallet jack and the load being moved. If needed, wear a work belt to help move the loads.
Pre-Operation Inspection
Before you begin operating your pallet jack, there are a few things you should check. Plan the route you will be taking to make sure it is free of debris and other hazards. Since pallet jacks are designed to operate on flat surfaces, you should also pick a route that is level.
Once you have planned your route, make sure you are familiar with all the controls on the pallet jack. Check to see if the controls are operating correctly and that the wheels are damage-free. Any issues with the equipment should be reported to a supervisor immediately.
Loading the Pallet Jack
Once you have performed an inspection, you are ready to start loading your pallet jack. Make sure you center the forks completely underneath the load. If you do not do this, you risk tipping the load which can cause very serious injury. Never place your hands or feet under the load or the jack and be aware of pinch points on the machine. You should know the rated capacity of each piece of equipment and take care to avoid going above that capacity. Once the load is stabilized, you are ready to start moving.
Moving the Load
When moving the load, you should keep the forks and the load about 1 inch off the ground. The load will be much more stable closer to the floor, so do not raise the forks higher than needed.
When moving the manual pallet jack, you should push the load whenever possible. Do not pull the load behind you, because that can cause serious back injuries. Pushing the load keeps your spine straight and allows you to use your larger and stronger leg and back muscles.
If you are moving on an incline, always stay uphill of the load. If something accidentally slips, you do not want to place your body in line with the path of the load. Start and stop slowly so you do not accidentally run into anything or anyone.
Storing the Pallet Jack
Never leave a pallet jack unattended, except for in its designated storage place. Do not block any entries or common walkways with the equipment and make sure the forks are completely lowered to the ground when not in use. This will prevent tripping and other potential safety hazards.
Are you interested in buying or renting pallet jacks for your company? Call us at 888.EQDEPOT or contact your local sales representative.