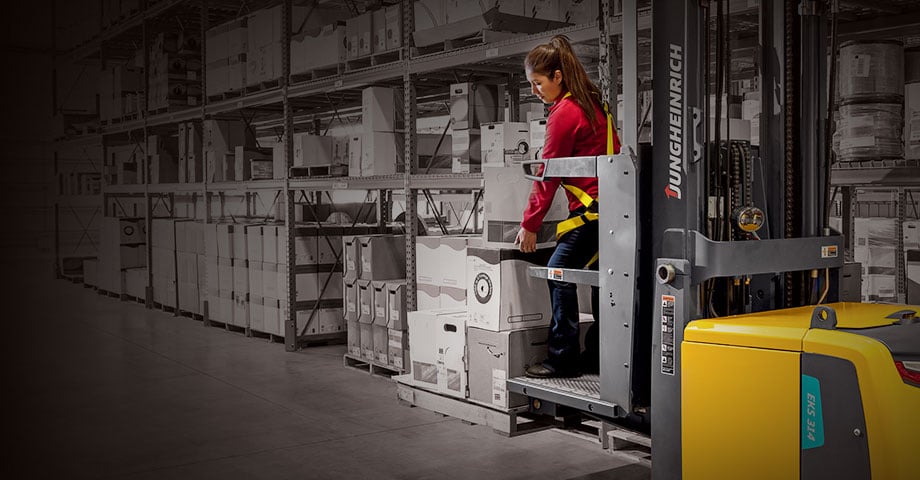 The material handling industry is undergoing rapid growth. The industry was valued at $35.3 billion in 2014. According to a Persistence Market Research report, it is expected to reach $55.9 billion by the end of 2021. One of the best ways to take advantage of this growth is by adapting to market trends.
Here are some material handling trends to watch in 2018:
E-Commerce Integration
The race is on to develop efficient and optimized warehouses to support new e-commerce trends. With online sales climbing every quarter and the pressure to improve shipping speeds, it is important to test warehouse e-commerce best practices to keep up with the increased demands.

Implement a cluster-picking strategy to improve pick rates and fulfillment efficiency.

Introduce systems that will allow your warehouses and retail centers to communicate. This will ensure accurate inventory and will help both operate cohesively.
Integrate systems that will help prepare your facilities, equipment and staff to handle seasonality.
Increased use of mobile devices and retailers' investments in online capabilities will have a huge impact on businesses. The demand for online retail is increasing, and companies must play catch-up to meet these needs.
Advanced Material Handling Fleet Management
The forklift industry has been around for over a century, and forklifts have evolved in form and function since the industry's inception. Naturally, many of today's material handling equipment are not optimized to meet modern demands. Newer equipment are more effective and efficient, with longer-lasting batteries.
A survey on the age of material handling equipment revealed the following:
The average age of material handling equipment is 15 years old.
35% of companies have at least one piece of material handling equipment that is 20+ years old.
Older machines are prone to break down more often. They require more frequent maintenance and often have hefty repair costs. As more of these equipment age, fleet management becomes an increasingly important operational concern. More companies will rely on data and analytical models to make decisions about when to replace a material handling equipment.
Energy Efficiency
The forklift industry in particular has placed a major focus on energy advancements. Take, for example, the Jungheinrich EFG 220, which can run continuously for two shifts on one battery charge.
A recent report from Technavio shows an analysis of the most important changes expected to impact the market from 2017 to 2021.
The top three emerging trends driving the industrial battery market for material handling equipment are:
A shift in manufacturing outsourcing from Asian-Pacific countries to Latin American countries, which will lead to an increase in demand for solutions that fit this region.
Declining prices for the more efficient Li-ion batteries. This will make Li-ion batteries more accessible to people who could not previously afford them.
Increasing focus on automated guided vehicles. The adaptability of this technology, along with computer aided design software, holds the potential to greatly improve the efficiency of your warehouse.
E-commerce advancements, technology improvements, and energy enhancements will make a large impact on the material handling industry this year and in coming years.
Equipment Depot's industry experts are ready to help you take advantage of these trends and improvements. Contact us today at 888.EQDEPOT with all your material handling and rental questions.