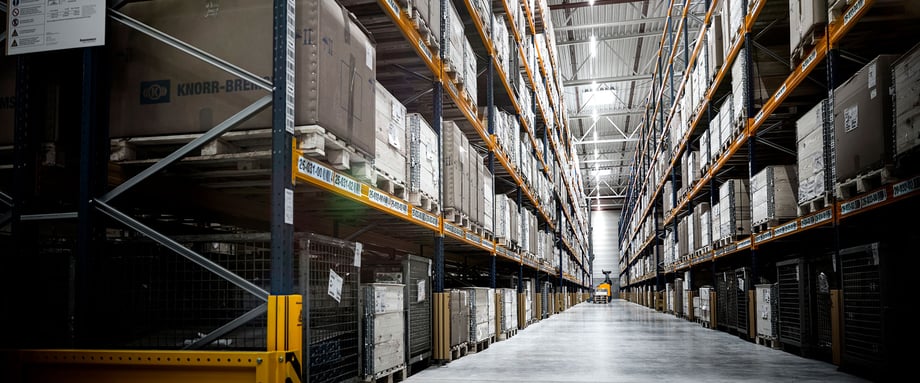 As more companies look for ways to create additional space in their warehouses to meet demand and boost productivity, they need well-designed pallet racks. Pallet racking systems can maximize the capacity and efficiency of a warehouse. With the right storage racking solution, distribution managers can increase their throughput, improve productivity, and ensure their product is safely stored.
What Is a Pallet Racking System?
A pallet racking system is a type of warehouse storage or shelving that's specifically designed to handle products on pallets. By using a pallet rack system, you can take advantage of underutilized vertical space in the warehouse as pallets filled with inventory are stacked horizontally in vertical sections.
Warehouses and distribution centers often use pallet racks to maximize the use of their space and increase the warehouse's efficiency in picking stocked items. With the help of forklifts, order pickers, and other material handling equipment, these materials can be loaded and unloaded from the racking shelves. The right racking system allows a warehouse or distribution center to organize its inventory, allowing products to be swiftly picked and sent to customers.
Types of Pallet Racking
While there are many types of pallet racking systems, the following are the most common.
Selective Racking
Selective racking is ideal if a warehouse has a low number of pallets per SKU. Many companies choose this pallet racking system since it supports first-in, first-out (FIFO) access to any pallet. Typically, selective racking consists of metal shelving designed to fit pallets. These pallets can be quickly racked and removed with a forklift. Warehouses that use selective racking typically have a space utilization rate of 90%.

Narrow Aisle and Very Narrow Aisle Racking
Narrow aisle and very narrow aisle (VNA) pallet rack systems are ideal for warehouses needing to make use of every bit of space, as the racks are placed much closer together with narrower than average aisles. These narrow aisle and VNA racking systems require specific types of lift trucks to safely and efficiently operate in the rows. Turret trucks or articulated forklifts are used to pick up pallets from the rack picking and deposit (P&D) stations at the end of the bay. These forklifts then store the pallets into the racking.
High Bay Pallet Racking
High bay racks are ideal for creating additional vertical storage space and storing large quantities of high-throughput goods. Pallets are placed in a single or double deep system. This automatically controlled system can be served by racking cranes that operate with floor-mounted rails. High bay pallet racking systems are a good choice for those who want convenient access to all pallets in their warehouses.
Double-Deep Racking
Double-deep racking systems can support first-in, last-out (FILO) access in a warehouse and allow product to be stored two pallets deep. They are a great solution for spaces with more pallets per SKU, providing up to 90% storage utilization. A double deep pallet racking system is not the best choice for a warehouse that regularly needs access to pallets.
Push-Back Racking
A push-back pallet rack is another option for a warehouse that needs to increase storage density. It is best suited for warehouses with more pallets per SKU, where it can boost storage utilization by 90%. When the forklift loads a new pallet, it pushes the last pallet toward the back. Often, this type of racking holds two pallets, but these systems can be customized to fit up to six pallets deep.
Like double-deep pallet racks, this system can support FILO processes and is typically used for whole pallet storage only. Forklift drivers must be careful with the pallets during the unloading and loading stages to ensure pallets are stored in the correct order and at proper alignments.
Pallet Flow Racking
Pallet flow rack systems work in a similar way to push-back pallet racks. However, these systems employ rollers and gravity. Instead of loading the rack in the front, these systems load from the back. The pallet flow racking system is built at a slight angle, allowing the products to be placed in the back and pushed forward until they reach the front of the pallet. A pallet flow rack system is an excellent option for first-in, first-out (FIFO) product arrangements.
Drive-In and Drive-Through Racking
The drive-in and drive-through pallet rack is great for warehouses with high storage density requirements. Instead of horizontal shelves, drive-in racks are designed in a lane with rails on both sides. In many cases, these racking systems can store up to 12 pallets deep or seven pallets high.
Mobile Racking
Warehouses needing a large amount of storage should consider a mobile pallet rack. It can support around 90% storage utilization with only modest pallet movement. A single aisle will be open at a time, allowing forklift drivers to access the pallets. The racks are built on rails in the floor and can be adjusted as needed. Many warehouses use mobile racking for cool or cold storage.
Cantilever Racking
A cantilever rack is a simple system. Rather than having shelves for holding pallets, this system has a base that supports arms to hold long or oversized products like pipes or lumber. A cantilever racking system can be used in warehouses with or without pallets, and managers can customize the system to hold materials of any size.
Pallet Shuttle Racking
This type of warehouse racking system is also called a deep lane pallet rack system, and it is an excellent option for warehouses with a high volume of products. Many warehouses use pallet shuttle racking systems to increase space utilization. All pallets can be accessed with a remote-controlled mobile shuttle, allowing companies to maximize efficiency and storage.
Need More Information on Pallet Racking Systems?
Selecting the right pallet rack system can help you significantly improve operations within your distribution center or warehouse. When you need help choosing the right racking system for your space, our team at Equipment Depot is ready to answer your questions. Talk with one of our experienced warehouse consultants by calling 888.EQDEPOT today.