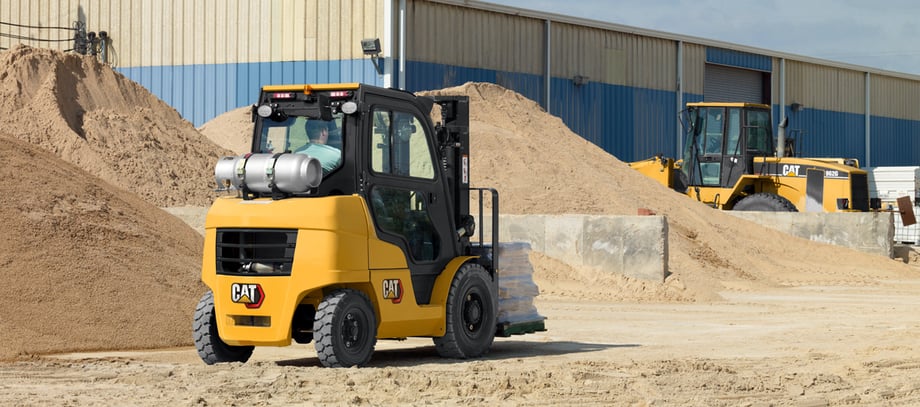 When moving materials over rough terrain in outdoor environments, it's essential to have the right forklift for the job. Since some forklifts do not have the durability to work under strenuous conditions, you need to ensure you use a model that can operate efficiently and safely on unstable surfaces while lifting heavy loads. If you're looking for material handling equipment for these types of applications, your best choice is a rough-terrain forklift.
What Is a Rough-Terrain Forklift?
Rough-terrain forklifts are industrial trucks designed specifically to operate in rough and rugged environments. Standard, smooth-tire warehouse forklifts will not get the job done in this type of application, and can even be considered a safety hazard. Instead, you will need a rough-terrain or all-terrain forklift built specifically to travel over harsh surfaces and in extreme conditions. These forklifts are designed with deeper tire treads, enhanced maneuverability, stability features, and increased load capacities that make them ideal for outdoor operations.
While certain specifications will depend on the manufacturer, many rough-terrain forklifts can travel up to 24 mph and lift between 8,000 and 30,000 pounds. For breakbulk and high-capacity operations, some heavy duty forklifts can handle over 100,000 pounds on rugged surfaces. Since all-terrain forklifts are very durable, a benefit to them is that you could leave them outside at a construction site or yard, however storing them indoors or in a covered area is always best to help prolong the equipment life.
You can also use rough-terrain lift trucks indoors, but they may not be right for indoor applications since they are typically powered by propane, gasoline, or diesel fuel which produce carbon emissions. Since newer forklifts are built to emit fewer gasses, you can minimize emissions by replacing older forklifts and making sure your forklifts are regularly maintained.
Why Rough-Terrain Forklifts Are Ideal for Dirt and Gravel
Rough or all-terrain forklifts are the ideal choice for gravel and rocky surfaces due to their large pneumatic tires with thick treads, allowing them to move across unpaved, uneven, and rough terrains with increased traction and stability. In addition to proper tires, rough-terrain forklifts include numerous features that enable them to transport heavy loads and carry most types of materials.
What Tires Are Used on Rough-Terrain Forklifts?
Since rough-terrain forklifts need to work under harsh environments, they are equipped with two different types of durable, pneumatic tires.
Solid Pneumatic Tires
Solid pneumatic tires feature molded steel rings with a solid middle, making them durable and puncture proof. These tires, which are often found on construction sites, feature a deep tread and provide a secure grip whether they operate on flat or uneven surfaces. Because they are solid, they can create a rougher ride for the operator than air- or foam-filled pneumatic tires.
Foam- or Air-Filled Pneumatic Tires
When you need a tire for an all-terrain forklift that can operate in both outdoor and indoor conditions, choose the air- or foam-filled options. As the name implies, air-filled pneumatic tires feature a rubber wall with an air filled middle, but still have a thick tread for greater traction. These tires offer better shock absorption and grip when traveling over uneven surfaces, dirt or gravel, but are susceptible to punctures. Foam-filled pneumatic tires feature a similar rubber wall with thick tread, but are filled with a hardened foam that makes them puncture resistant. They also offer more traction and shock absorption, but are heavier and therefore require more power to maneuver.
Best Features of Rough-Terrain Forklifts
Aside from tires designed to increase traction and stability on rough terrain, all-terrain forklifts are equipped with a variety of features to make them ideal for use in construction sites, lumber yards, and other outdoor environments. Features may include:
More powerful engines, larger body styles, and heavy duty forks so they can carry large amounts of materials
Calibrated balance to enable trucks to change course at higher speeds and prevent tipping
Higher ground clearance for easier movement over rough surfaces
Ability to navigate slight slopes and surface grades
What Are 3 Types of Rough-Terrain Forklifts for Dirt and Gravel?
Vertical-Mast Rough-Terrain Forklift
When you need a forklift that can work on uneven or natural terrain, consider the vertical-mast rough-terrain forklift. These lift trucks are designed to lift loads straight up and down. Since they aren't intended for indoor use, they do not have free lift, which means that the forks won't rise without the second stage of the mast rising as well. These machines have two small tires at the forklift's rear and two larger tires at the front, which provide excellent balance when lifting heavy loads or traveling over uneven surfaces. They are available in both 2 and 4-wheel drive. The most common type of all-terrain forklift, vertical-mast rough-terrain forklifts are often used on construction sites, lumber yards, roadwork locations, dockyards, and even beaches. While these forklifts are sturdy and durable, extra caution must be used when working in extremely muddy conditions because in some situations, the machines can become stuck in the soft ground.
Variable-Reach Rough-Terrain Forklift
Variable-reach forklifts, often referred to as telehandlers, feature telescopic boom lifts that are placed in front of the machine and can be extended to a range of heights. They are able to lift and move loads in multiple directions just by moving the boom and are often equipped with outriggers for additional stability when lifting and reaching. Initially, these forklifts were designed for horizontal reach applications prevalent in the commercial and residential masonry industry. Today, telehandlers are used in many other applications throughout the construction and agriculture industries.
The low height of the machine when fully collapsed offers superior maneuverability when compared to other options, and the triangular footprint increases stability on rocky terrain and slopes. While variable-reach forklifts offer a lot of versatility, it's important to remember that with the additional weight of a boom lift attachment, telehandlers are designated as a partially loaded truck, so extra caution is needed to ensure the proper load capacity is not exceeded.
Truck or Trailer-Mounted Rough-Terrain Forklift
Another type of all-terrain forklift is a vehicle-mounted option. The truck-mounted or trailer-mounted forklift can be a better option for those who want a forklift that is easy to transport and can operate over unlevel terrain. They're best used for operations that require frequent loading and unloading such as in the construction, recycling, distribution, and agriculture industries. These lift trucks have self-propelled designs and can be attached to a trailer or truck, offering better portability than other options. One note of caution: not all truck or trailer-mounted forklifts are graded for all-terrain applications, so make sure that the model you choose is certified for all- or rough-terrain work.
Need More Information on Rough-Terrain Forklifts?
All-terrain and rough-terrain forklifts allow you to maneuver over rugged, uneven, and difficult terrain while lifting heavy loads safely. Some forklifts are easily transportable, while others provide extended horizontal reach at tall heights. When you're ready to purchase your first rough-terrain forklift or expand your existing fleet, our expert consultants will help you find the ideal forklift for your applications. To learn more about all-terrain forklifts, talk to one of our material handling equipment specialists at 888.EQDEPOT.