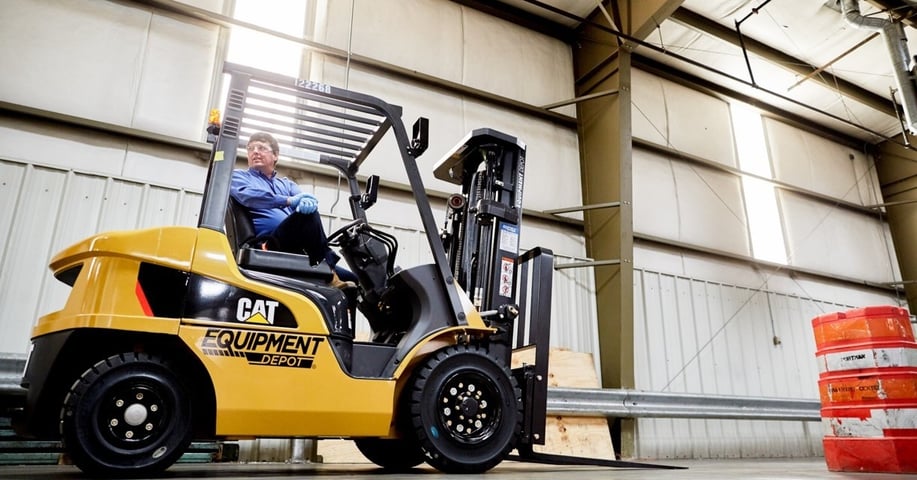 Renting a forklift is a cost-effective way to keep your operation running. With so many factors to consider, however, renting a forklift can get confusing.
Keep these questions in mind to make sure your forklift rental goes off without a hitch.
1. When Should I Rent a Forklift?
There are many benefits to renting a forklift instead of buying one. Some of the most common reasons for renting a forklift include:
Limited Use: Renting is a good option when you have a short-term project or an open-ended project that may not have a permanent need or storage availability for the equipment.
Equipment Flexibility: If you are not sure what type of forklift you need, or if your equipment needs to change throughout the year, renting a forklift is probably your best option. This will allow you the freedom to change your equipment whenever you need to.
Upfront Cost: Renting a forklift has a smaller upfront cost, which can be beneficial for the company's bottom line.
2. What Kind of Forklift Do I Need?
To get the right forklift for your needs, gather some information on how it will be used. These will help you figure out which type of forklift you should rent. You should know:
Location: Will your forklift be used inside or outside?
Load Capacity: What is the maximum amount of weight your forklift will need to move?
Lifting Height: What is the highest height your forklift will need to reach?
Turning radius: How much space will your equipment have to turn?
Aisle Width: What is the smallest aisle your forklift will have to go down?
Fork Length: How long do your forks need to be to carry your load?
Tire Requirements: Where will you be operating your forklift? This will allow you to determine what type of tires you should use with your forklift.
With your needs clarified, a salesperson will help you identify the best equipment for your operation.
3. How Long Should My Forklift Rental Be?
The simple answer is that your forklift rental should be as long as you will need it for your project. If you have two projects close to each other, however, it may make more financial sense to keep your forklift around a little longer. Work with your sales representative to see what rental period is the best option for your needs.
4. What Will I Need to Power My Forklift?
Your power source will vary depending on the type of forklift you will need. For example, electric forklifts will require a suitable charging option. If you do not have a battery charger for your forklift, you will want to factor this cost into your rental. Electric forklifts are great for indoor environments because they are free of pollution.
If you rent an internal combustion (IC) forklift, you will end up using either diesel fuel of liquified petroleum gas. These are easy to power and refuel quickly. IC models are great for outdoor or construction work areas, but they are also suitable for some indoor applications.
5. Should I Get the Forklift Delivered?
Because transporting a forklift must be done carefully, it is best to let your dealer deliver and pick up your rental. They will have the experience and ability to make sure you get the forklift in a timely manner. They can also walk you through any questions you may have when they deliver your lift. Although you will be charged a small delivery fee, this will allow you to make sure you safely get the forklift and is typically the best option.
6. What Happens if Something Malfunctions During My Rental?
The exact response to a malfunctioning forklift depends on your contract. Some wear and tear should be covered by your contract, but it will not cover customer damage or abuse. Be sure you know the terms of your rental agreement when it comes to service.
One benefit of renting a forklift is that most dealers will be able to help service the equipment you rented. Since they own the equipment, they will be invested in keeping the machine working in optimal condition. They will also be able to provide you with a replacement should your rental break down completely.
7. What Happens When I am Done with My Rental?
Once you are done with your rental, be sure to call the dealer immediately so you are not charged for keeping the equipment past your rental agreement. They will work with you to set up a pick-up time.
Equipment Depot is the largest independent material handling and rental source in America. With an extensive rental inventory of over 12,000 pieces of equipment ready to roll, you'll be ready to get the job done in no time. Call 888.EQDEPOT to request your free rental quote.