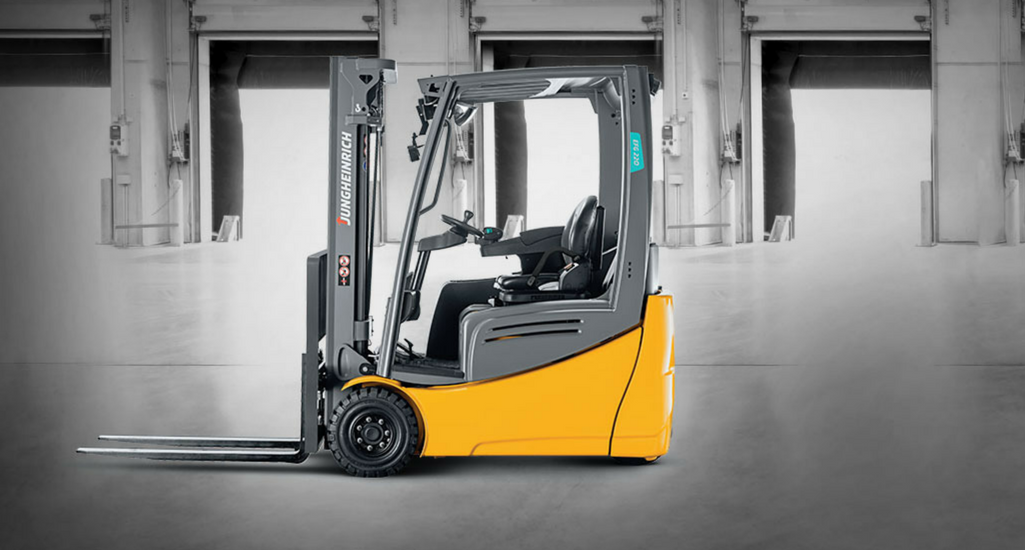 Jungheinrich is one of the world's leading manufacturers of warehouse products. The brand, supported by the Mitsubishi Logisnext Americas Inc. network, is known for reliability, superior comfort and energy-efficiency. Jungheinrich continues this tradition of high standards with its latest release, the EFG 220.
The EFG 220 exceeds all performance expectations and has earned the nickname "The Big Deal on Three Wheels." Here is everything you need to know about the EFG 220.
2 Shifts, 1 Charge Guarantee
The EFG 220 offers one of the lowest energy consumptions in the industry. The unique design of the Jungheinrich EFG 220 enables this forklift to exceed traditional run times. It even comes with a 2 shifts on 1 charge guarantee, able to run for 16 hours without needing to be recharged.
Low Total Cost of Ownership
The EFG 220 is known for its low maintenance requirements and an overall low total cost of ownership.
Major components have reduced maintenance requirements, which results in fewer ongoing maintenance costs for the life of the forklift. In fact, this is a common benefit associated with electric forklifts.
The EFG 220 has a planned maintenance interval of 1,000 hours. By comparison, similar trucks on the market today require PM intervals at every 250 or 500 hours.
Built for Exceptional Comfort
The relaxed and comfortable operator compartment of the EFG 220 is well suited for operators that work long shifts, including:
Fully adjustable and low-effort electric power steering
No hydraulic components in the leg area means less steering-related noise and more leg room for the operator
Easy to read and intuitive 4" HD full color display screen
Adjustable, one-point armrest mounted on the seat with convenient storage compartment and USB port
SoloPILOT fingertip controls come standard, with optional DuoPILOT and multiPILOT controls
Floating cabin, full-suspension seat and super elastic tires enable a comfortable ride - even on uneven or rough floors
Technical Specifications: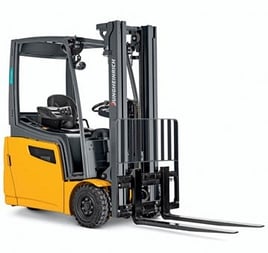 Basic Capacity: 3,880 lbs.
Maximum Fork Height: 255 inches
Voltage: 36v and 48v
Length to Fork Face: 78.5 inches
Chassis Width: 44.1 inches
Chassis Height: 79 inches
Height With Lowered Mast: 79 inches
Height With Extended Mast: 166 inches
Gross Weight:

36V: 7,421 lbs
48V: 7,343 lbs.
The EFG 220 is a highly-versatile electric counterbalance forklift for a number of reasons:
Performs well in wet, cold, or extreme conditions
Operates well both indoors and outdoors
Critical components like the AC and hydraulic motors, drive axle, compartment for electronic components are rated IP54 for protection against dust and water
SAAB connectors are rated IP65
Multiple enclosed cabin options, providing comfort and productivity for operators working in harsh environments
Learn More
If you are ready to take advantage of the EFG 220's 2 Shifts, 1 Charge Guarantee, request your free quote or call us at 888.EQDEPOT.
To learn more about Jungheinrich and MLA, visit logisnextamericas.com.